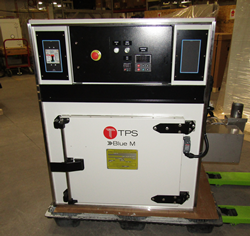 This particular oven was designed and reinforced to operate in an inverted position. The entire conditioning system, including the exterior exhaust system, was modified to incorporate the design change. – Jonathan Young, Product Manager
NEW COLUMBIA, Pa. (PRWEB) January 10, 2020
Thermal Product Solutions, a global manufacturer of thermal-processing equipment, announced the shipment of one Blue M Class A, Mechanical Convection Oven to a company in the oil and gas industry.
This Blue M convection oven has a designated temperature range of 15°C above ambient to 82°C due to the large solvent load in the chamber. The interior of the work chamber itself has dimensions of 25 W x 20 D x 20 H. The oven will allow the customer to process products containing flammable vapors inside the oven while maintaining safe operating conditions. It features special construction that evacuates solvent vapors from the chamber as well as reducing ignition sources.
Special heaters were also installed to increase the heat output inside the chamber. This allows for a larger exhaust rate while maintain ramp times and temperature within the working chamber. The horizontal air movement from left to right maximizes heating rates within the oven chamber.
"This particular oven was designed and reinforced to operate in an inverted position. The entire conditioning system, including the exterior exhaust system, was modified to incorporate the design change."
– Jonathan Young, Product Manager
Unique Features of this Blue M Class A oven include:

Differential pressure switches on the circulation and exhaust blowers
Fully welded 304L stainless steel interior liner
Quick access for simple inner chamber cleaning
Safety door switch which de-energizes the heaters and circulation upon opening the door
Emergency power off push button
Special inverted design to accommodate customer request
Additional heat to allow for additional solvent load in the chamber
Watlow PM temperature controller and high limit
Powered exhaust for removal of solvent vapors
UL labelled control panel
NFPA 86 Class A construction for safe use with flammable vapors
About Blue M
Blue M is recognized as an industry leader in the design, engineering, manufacture, and aftermarket support of industrial and laboratory ovens that are ideal for a wide range of applications. Blue M products are available in bench top, stacked, and cabinet models to accommodate a variety of capabilities and footprints.
About TPS
Thermal Product Solutions ("TPS"), is a leading American manufacturer of industrial ovens, furnaces, pharmaceutical sterilizers, and environmental temperature cycling and stability test chambers. TPS is a global leader in thermal processing products and test solutions with brands including Baker Furnace, Blue M, Gruenberg, Tenney, Lindberg, Lunaire, MPH, and Wisconsin Oven. For more information on equipment solutions from TPS visit the website at http://www.thermalproductsolutions.com.