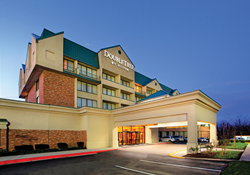 During times of community crisis, it's important for everyone to think about what is uniquely within their power to do to help
PIKESVILLE, Md. (PRWEB) June 04, 2020
More than 10,000 cases of COVID-19 have been diagnosed in Baltimore County and Baltimore City combined since the onset of the pandemic in March, taxing the healthcare system and putting unprecedented demand on the men and women who work on its frontlines. Nurses, physicians, and other medical personnel have come to the Baltimore metropolitan area from across the state and throughout the country to support their colleagues in managing the coronavirus pandemic, in many cases sacrificing their own comfort and well-being for the good of our community.
DoubleTree by Hilton Baltimore North in Pikesville, Maryland wanted to show its support for the medical staff who have been caring for those with COVID-19 in local hospitals. According to Mark Mahoney, General Manager, the DoubleTree by Hilton has provided in excess of 500 room nights to frontline medical personnel at no charge.
"During times of community crisis, it's important for everyone to think about what is uniquely within their power to do to help," said Mahoney. At DoubleTree by Hilton, our business is comfort. We wanted to provide a safe, comfortable place for medical staff working at the hospitals nearby to relax after or between shifts, or for those arriving from out of state—such as traveling nurses or volunteering physicians from other parts of the country. Our donation is part of a larger commitment from Hilton and American Express to provide up to 1 million hotel room nights across the United States to frontline medical professionals through May 31."
The DoubleTree by Hilton is located near many area hospitals, including The Johns Hopkins Hospital, Greater Baltimore Medical Center (GBMC), Northwest Hospital, Sinai Hospital, and other affiliates of the LifeBridge and MedStar medical systems, making it an ideal location for frontline workers commuting to Emergency Departments, Intensive Care Units, and COVID-19 testing units in the Baltimore metropolitan area.
Joelle Giron, a travel nurse who recently stayed at the DoubleTree by Hilton, says she was grateful for the clean, comfortable, complimentary accommodations.
"The compassion of the staff was amazing," she said. "I always had a group of staff members sending me off in the morning and welcoming me back at the end of my shift—always observing social distancing and other indoor safety protocols. They even hand-delivered DoubleTree's signature chocolate chip cookies to my room—warm, and fresh from the oven—and made sure I always had coffee to put in my thermos as I was running out the door!'
Diana Barron, another traveling nurse, also said staying at the DoubleTree by Hilton felt like her home away from home. "I am very grateful for all the kindness and patience I received from the staff," she said. "From the very first day, they welcomed me. They were professional, friendly, and caring, and they truly made an effort to get to know me. All of this is especially important during the pandemic, when everyone needs a little extra TLC. Thankfully, I found that in this wonderful hotel."
About Blue Ocean:
Founded in 2004, Blue Ocean is a real estate investment and management company headquartered in Baltimore, MD. Blue Ocean is active in a variety of sectors within the real estate industry including multi-family, office, retail, industrial, hospitality, and self-storage sectors. Today, the Blue Ocean portfolio consists of 23 properties valued at approximately $450,000,000. This portfolio consists of 3,000 apartment homes and almost 3,500,000 square feet of commercial space.