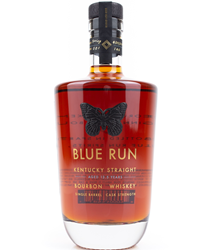 A Bourbon treasure hunt is about to commence as Blue Run Spirits unveils its Spring release, which recently won Best in Class and a Double Gold Medal at the prestigious San Francisco World Spirits Competition
GEORGETOWN, Ky. (PRWEB) May 11, 2021
A Bourbon treasure hunt is about to commence as Blue Run Spirits unveils its Spring release, which recently won Best in Class and a Double Gold Medal at the prestigious San Francisco World Spirits Competition. Blue Run 13.5-Year-Old Single Barrel Cask Strength Bourbon launches today as ten separate limited-edition bottlings from ten different barrels, each hand numbered to denote the proof, barrel number and bottling date, enticing whiskey sleuths to find the entire collection and whiskey enthusiasts around the country to discover their favorite flavor profile. Each bottle comes in a custom, handmade black lacquered wooden box, adding to the collectability.
The unveiling of Blue Run 13.5-Year-Old Single Barrel Cask Strength Bourbon comes on the heels of Blue Run's inaugural release in October of 2020. Blue Run 13-Year-Old Bourbon received exceptional reviews and sold out quickly. With Jim Rutledge as the company's Liquid Advisor, this new batch of Blue Run will delight Bourbon drinkers around the country. Rutledge is a 50+ year whiskey industry veteran and a managing partner of J.W. Rutledge Distillery.
Each of the ten barrels comes from the same mash bill, same yeast, same still and same warehouse, but how the liquid reacted to the wood and its position in the warehouse can delicately change the characteristics of the whiskey. Blue Run 13.5-Year-Old Single Barrel Cask Strength Bourbon has the brand's characteristic smooth and mellow flavor; a long, sweet and dry finish; little to no burn on the back end – even at cask strength – and a long tail.
Between 104 to 150 bottles will be available from each barrel, with the proofs varying from 124 to 132. The secret to which barrel the Bourbon came from can be found on the hand-numbered label, which gives a hint at that whiskey's particular characteristics and flavor profile:
Barrel #1: Mellow sweet corn and brown sugar apple butter that develops into mellow oak tannins
Barrel #2: Deep chocolate and honey-drenched s'more
Barrel #3: Gorgeous crème brûlée with a burst of dark brown sugar and streaks of ginger
Barrel #4: Creamy toffee with bites of cocoa and black pepper
Barrel #5: Sultry black cherry and oak with clove honey
Barrel #6: Decadent dark chocolate with a marshmallow frame and clove cascade
Barrel #7: Layers of char smoke and rich vanilla wood sugar
Barrel #8: Roasted pecan and nutty campfire smoke
Barrel #9: Spice forward with bold black pepper and baking spices and an herbaceous wrap
Barrel #10: Oak tannin and dark raisin combination with a whip of smoke on the finish
Though each barrel has its own subtle flavor differences, consumers can expect the liquid in each bottle to have a deep glow, streaked with bronze highlights; an alluring aroma of molasses and brown sugar with a toasted, nutty frame that reveals itself around baking spices and cocoa; and a long, sweet and dry finish wrapped in dark cherry highlights.
"This limited-edition, high-proof release offers a uniquely customized experience based upon each whiskey fan's palate, pairings and passions," said Mike Montgomery, CEO of Blue Run Spirits. "While a bottle of Blue Run Bourbon will definitely stand out on your bar, it's the flavor we are most proud of and glad to see experts like the judges at the San Francisco World Spirits Competition agree."
Blue Run 13.5-Year-Old Single Barrel Cask Strength Bourbon will be found in May initially in Kentucky, California, Delaware, Georgia, Maryland, South Carolina, Tennessee, and Washington, DC, as well as online. But here's the twist: No state will receive bottles from all ten barrels. Each will get up to nine, encouraging collectors to reach out to friends to help amass the entire collection. The product will also be available through Seelbachs.com, with bottles from a different barrel made available every few weeks (but again, with only nine available). Seelbach's will also offer a very limited number of ten-bottle complete sets.
Blue Run's latest release will stand out on store shelves due to the modern design by Devon McKinney, the creative mind behind some of the world's most-sought-after sneakers. The brand's signature butterfly medallion, a nod to the Commonwealth of Kentucky butterfly the Viceroy, will be matte black on the Blue Run 13.5-Year-Old Single Barrel Cask Strength Bourbon bottle. This new offering will come housed in a striking, handmade black lacquered display box made of sustainable birch and imprinted with gold leaf.
Blue Run Bourbon will be available at $229.99 SRP. The company's next release, a 14-Year-Old Small Batch Bourbon that also won Best in Class and a Double Gold Medal at the San Francisco World Spirits Competition, will be launched this summer, followed by a Gold Medal-winning Rye Whiskey in late summer.
Blue Run Spirits' distribution partners include Republic National Distributing Company (RNDC) in Kentucky; Breakthru Beverage Group in Illinois and Colorado; Savannah Distributing Company in Georgia; Advintage Distributing in South Carolina and Tennessee; Prestige-Ledroit Distributing Co. in Washington D.C., Maryland and Delaware; American Spirits Exchange in California; and Evergreen Beverage Canada in Canada.
Find Blue Run Spirits online at http://www.bluerunspirits.com, and on social media: Instagram, Facebook and Twitter.
EDITOR NOTE: Hi-res bottle images can be found HERE.
ABOUT BLUE RUN SPIRITS
Blue Run Spirits is a new kind of spirits company, creating a unique luxury proposition by tapping into the deep heritage and craft that makes a truly great whiskey, then elevating it through a modern design and marketing lens to reach a younger, broader and more diverse whiskey drinker. The company's founders include a Nike designer, the first director-level employee at Facebook, a hospitality executive, a political advisor, and a philanthropist – all huge whiskey fans and individuals who acutely understand how to build demand and buzz for a contemporary consumer product. They are backed by a team of advisors including Nike marketing experts; the Campari communications veteran behind the US launch of Espolòn Tequila and the Aperol Spritz; a former vice president of innovation from Brown-Forman; a former spirits distributor; and others with deep industry experience. The Blue Run name is a nod to one of our founder's upbringing in Georgetown, KY, where Bourbon began in the Bluegrass State.