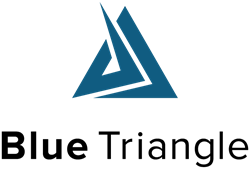 JavaScript Function Tracing helps developers improve site speed by shining the spotlight on long-running JavaScript tasks, which often bog down web pages and cause slowdowns.
RICHMOND, Va. (PRWEB) January 09, 2020
Blue Triangle, a leader in Digital Experience Analytics, today announces JavaScript Function Tracing to help website owners improve key Google PageSpeed metrics like Time to Interactive (TTI), First Input Delay (FID), and First Contentful Paint (FCP).
"Major websites have low Google PageSpeed scores due to slow TTI, FID, and FCP metrics. Blue Triangle's JavaScript Function Tracing helps site developers improve these KPIs by shining the spotlight on long-running JavaScript tasks, which often bog down web pages and cause slowdowns," says Tim Grant, Founder and CTO.
According to Blue Triangle CEO Lance Ullom, "Website owners are leaving millions of dollars on the table by not addressing slow web pages. Google has made it very clear that site speed is a ranking factor in mobile search results, and we have found that users are becoming more and more impatient on the web," Mr. Ullom goes on to say, "Business owners and DevOps teams need better tools to find the root cause of these performance problems."
With Blue Triangle's JavaScript Function Tracing, web teams can now:
1. Find out which first- and third-party JavaScript functions are causing slowdowns.
2. Identify the source of every JavaScript function (third-party vendor, file, etc.).
3. Analyze the performance of functions in aggregate to resolve problems impacting large user populations.
4. Visualize combined file and function waterfall charts for a complete view of the web page load
Function tracing is now available in Blue Triangle Synthetic Monitoring, and is coming soon to their Real User Monitoring product. For more information about JavaScript Function Tracing, click here.
About Blue Triangle
Blue Triangle provides digital teams with a connected view of their marketing, web performance, and third-party tag analytics while constantly monitoring website code for security vulnerabilities.
With Blue Triangle, teams can track the experience of every web and mobile app visitor in real-time and identify specific web performance, third-party tag, and purchase path issues measurably impacting revenue. This data empowers teams to improve and secure their digital experiences along the most critical areas of the customer journey.
Blue Triangle is trusted by Fortune 500 companies including The Home Depot, Marriott, and Carnival Cruise Line, and was named a Gartner "Cool Vendor"​ in 2017. The company was founded in 2011 and is headquartered in Richmond, VA.
For more information, please visit bluetriangle.com.