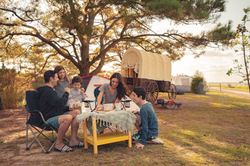 "These iconic campgrounds are part of Coastal Maryland's decades-long family camping tradition, and it's a special privilege to provide guests with an elevated experience and cherished family memories for years to come" -- Todd Burbage, Blue Water CEO
OCEAN CITY, Md. (PRWEB) May 25, 2021
Premier outdoor hospitality management firm Blue Water Development announced that it recently assumed management of two popular sister campgrounds owned by Sun RV Resorts in coastal Maryland: Frontier Town RV Resort and Campground in Berlin and Fort Whaley RV Resort and Campground in Whaleyville. The management transition was made official on April 1, 2021.
Just a short drive to Ocean City, Md. and Assateague Island National Seashore, these campgrounds join Blue Water's portfolio of twelve Eastern U.S. RV resorts and bring its tally of campgrounds on the Delmarva Peninsula to seven.
"These iconic campgrounds are part of Coastal Maryland's decades-long family camping tradition, and it's a special privilege for Blue Water to begin managing two great properties right in our backyard," said Blue Water CEO Todd Burbage. "We look forward to continuing what Sun RV Resorts started with these destinations by providing guests with an elevated experience and continued opportunities to make cherished family memories at these unique properties for years to come."
Frontier Town RV Resort and Campground boasts 688 total rentals comprised of RV sites, cabins, and tent camping sites with elevated amenities. More than just a campground, Frontier Town is a multi-attraction destination offering a water park, mini-golf, an arcade, and the renowned Western Experience theme park.
Fort Whaley RV Resort and Campground offers 210 total rentals including RV sites, cabins, and primitive tent sites. Guests can enjoy various on-site amenities, including a heated pool, mini golf, an arcade, a fishing lake, and a free shuttle to Frontier Town to enjoy the water park. Fort Whaley guests receive free admission to the water park and Western Experience park, as well as discounted access to other attractions in true sister campground fashion.
"The Frontier Town attractions have been synonymous with local family fun for decades, and we are thrilled to continue that tradition for guests at both campgrounds," Burbage added. "There is truly something for everyone at these properties, with new opportunities for fun or relaxation every day, and they are a fantastic way to experience the peaceful coastal Maryland lifestyle."
Sun RV Resort locations across the country provide elevated RV, cabin, and tent camping sites with resort-style amenities at great destinations. Sun RV Resorts' mission is instilled in the idea of living your best life through exceptional and transformative outdoor experiences. Guests can choose their own adventure with curated outdoor experiences that best suit their interests, such as kayak rentals at Frontier Town or exploring the boardwalk at Fort Whaley.
"Sun RV Resorts has a long-standing history with Blue Water," said Nick DiBella, SVP of Sun RV Resorts. "We've been partners since 2013 and are excited to continue working together on two more incredible resorts. They are an exceptional operator and we trust them to deliver the same quality guest experience at two of our most popular family destinations – Fort Whaley and Frontier Town. We share in the same values of delivering the highest quality outdoor hospitality experience and it will shine through this transition."
Blue Water has a legacy of elevating campgrounds by introducing cutting-edge hospitality management and adding amenities while preserving their history. In addition to Frontier Town and Fort Whaley, the firm recently assumed control of another Delmarva campground: Cherrystone Family Camping Resort. Located in Cape Charles, Va., Cherrystone boasts over 300 waterfront acres along the Chesapeake Bay and offers more than 690 campsites, including RV sites, seasonal camping, and glamping accommodations.
"Cherrystone has been part of the family camping landscape for more than half a century, and we're honored to carry on its legacy," Burbage said. "It's another perfect fit for our unique guest experience-focused service culture."
Frontier Town RV Resort and Campground is open through November 28 and is located at 8428 Stephen Decatur Highway, Berlin, Md. Book online at https://campground.frontiertown.com/reservations/ or call 800-228-5590.
Fort Whaley RV Resort and Campground is open through October 31 and is located at 11224 Dale Road, Whaleyville, Md. Book reservations at https://campground.fortwhaley.com/reservations/ or call 888-322-7717.
Cherrystone Family Camping Resort is open year round and is located at 1511 Townfield Drive, Cape Charles, Va. Book online at https://www.cherrystone.com/virginia-campgrounds/ or call (757) 331-3063.
Learn more about the Blue Water portfolio of hotels, RV resorts, and attractions at https://bwdc.com/portfolio/. For more information on Sun RV Resorts, please visit http://www.sunrvresorts.com.
About Blue Water Development
Founded by Jack and Todd Burbage in 2002, Blue Water specializes in developing and managing campgrounds, hotels, and attractions. Blue Water's integrated approach to marketing, revenue management, and operations has quickly established itself as a hospitality industry leader. With two dozen resort-area properties in East Coast states from Maine to Florida, the Blue Water family is committed to creating elite assets, delivering exceptional guest experiences, and enhancing the communities we serve. To learn more, visit BWDC.com.
About Sun RV Resorts
Sun RV Resorts is a division of Sun Communities which owns, operates, or has an interest in 562 developed MH, RV and marina properties comprising over 151,600 developed sites and nearly 38,800 wet slips and dry storage spaces in 39 states and Ontario, Canada.
Established in 1975, Sun Communities became a publicly owned corporation in December, 1993. The company is a fully integrated real estate investment trust (REIT) listed on the New York Stock Exchange under the symbol: SUI.
Sun Communities has twice been honored by the Manufactured Housing Institute as winner of the "Community Operator of the Year" award. The award is emblematic of Sun Communities' focus on professional management at the community level.
For more information, please visit http://www.sunrvresorts.com, or follow along on Facebook and Instagram.