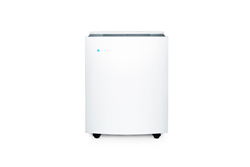 CHICAGO (PRWEB) February 05, 2019
Blueair, a global leader in air purification technology, today announced an exclusive partnership with acclaimed retailer Allergy Buyers Club to roll out AllergyGuard Plus, a new air purifier designed for allergy sufferers. The unique air purifier offers a sleek design, connectivity and powerful performance to alleviate pesky allergy symptoms.
"More than 50 million* people experience allergies in some capacity each year – myself included," said Bob McDonald, EVP of Blueair North America. "Symptoms like a runny nose, sneezing or itchy eyes often hinder your ability to go about your everyday life. We partnered with Allergy Buyers Club to help change that. The new WiFi-enabled AllergyGuard Plus removes nearly all airborne impurities, including allergens, to alleviate symptoms and help you breathe easier."
Available exclusively through Allergy Buyers Club, the new unit includes Blueair's patented HEPASilent technology to remove 99.97% of all airborne pollutants that can exacerbate allergy symptoms. The special AllergyGuard filters with powdered, high-porosity coconut carbon work to naturally and efficiently remove gaseous pollutants, traffic exhaust, smoke, odors and other allergens up to four times faster than a regular carbon filter.
"Blueair and Allergy Buyers Club make a powerful match with our mutual track record for helping allergy sufferers," said Allergy Buyers Club President, Philip Urso. "We have been providing Blueair products to our customers for over 16 years. Blueair's AllergyGuard Plus will provide the highest levels of air quality protection in the home or office for allergy and asthma sufferers, and we are honored to be the Exclusive Source of this terrific new product."
The AllergyGuard Plus has Wi-Fi-enabled cloud connectivity and integrated sensors that scan the air in real-time and automatically adjust the purifier's performance, making its clean air delivery even smarter. The unit is also compatible with the Blueair Friend App giving consumers more actionable data about their air quality and allowing remote control from their smartphone or Apple Watch when away from home.
"On the heels of the Consumer Electronics Show, which illuminated a ballooning appetite for smarter, healthier homes, Blueair's AllergyGuard Plus is a powerful solution for wellness-seeking consumers," added McDonald.
The AllergyGuard Plus is designed for rooms up to 775 square feet and is now available for online purchase in the U.S. at https://www.allergybuyersclub.com/blueair-allergyguard-plus.html. The air purifier will be sold at the price of $999 USD.
Sources: Centers for Disease Control and Prevention, Gateway to Health Communication and Social Marketing Practice. Allergies. Retrieved from: https://www.cdc.gov/healthcommunication/toolstemplates/entertainmented/tips/Allergies.html.