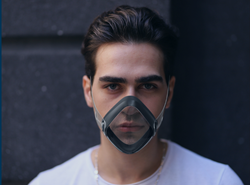 NEWARK, Del. (PRWEB) September 29, 2020
After 2 successful crowdfunding campaigns on 15 September, USA based Tooyntech Inc announced the release of its brand new smart mask campaign on Indiegogo.
BlueBreath is the first smart mask with AI-powered air ventilation system. Its AI system identifies how much fresh air you need regardless of the situation. BlueBreath in fact is ideal for runners, cyclers, commuters, travelers, outdoor enthusiasts, as well as people with allergies and respiratory diseases!
BlueBreath brings an extra new design solution. It comes with a transparent design and 6 different colors. With its affordable design, it is also kid friendly. Transparent shield filters the air like a normal mask would, but gives visibility, allowing to communicate more openly with people, and occasionally unlock the phone without needing to constantly touch it.
The 5 replaceable nano-filters protect from breathing even the smallest harmful particles. The Mini blower inside the mask ensures the circulation of clean air with 2 modes. Made from ABS safety materials harmless to use for anyone.
Special Eco Scent Filter with the insertable scents boost mood, promote relaxation, reduce stress, and ease the pain.
Being professionals in our field we decided to bring this mission to life. After months of researching the market getting negative feedback from users, BlueBreath engineers found the solution with creating a reusable AI technology face mask that makes breathing easier and safer.
Find us on IndieGoGo
For Press Inquiries:
Megan Hill, Media Relations
megan@bluebreath.com