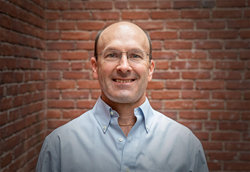 BOSTON (PRWEB) January 12, 2021
BlueConic, the world's leading pure-play customer data platform (CDP), today announced that marketing industry veteran David Visi has joined the team as Vice President of Professional Services.
Disruption created by third-party cookie deprecation, ever-changing consumer privacy laws, and rapid shifts in consumer behavior have brought new urgency to transformation mandates and growth-focused initiatives designed to help enterprises create new revenue opportunities and improve customer interaction and engagement. More and more of these large-scale organizations are turning to BlueConic to help them create a single, unified, actionable view of the customer that can be used for real-time lifecycle orchestration, modeling & analytics, digital products and experiences, direct-to-consumer diversification, audience-based monetization, and more. Visi's professional services team will bring the technical expertise and strategic know-how to ensure these enterprise customers maximize their return on investment in the platform, accelerate time to value, and deliver on their strategic ambitions.
"We're elated to welcome Dave to the BlueConic team. We pride ourselves on providing exceptional partnership and consistently delighting customers," says Cory Munchbach, COO of BlueConic. "Dave's expertise in creating best-in-class operating practices and delivery processes will ensure our customers, especially those with the most sophisticated needs, get immediate value from our customer data platform and realize the type of transformational growth they seek."
Visi is an experienced marketing technology veteran who has led software-as-a-service implementations for more than 12 years. He has spent the majority of his career in customer success roles leading enterprise client engagements, and most recently served as the vice president of operations for the Americas region at Nielsen. Prior to that, Visi led the global implementation team and project management office at Visual IQ.
"Business agility and digital transformation aren't just aspirations for tomorrow, but critical for success today," says Visi. "I'm excited to lead BlueConic's expert professional services team to help our enterprise customers accelerate their digital transformation, turn their first-party data into competitive advantage, and get the most out of their investment in BlueConic."
About BlueConic
BlueConic, the leading pure-play customer data platform, liberates companies' first-party data from disparate systems and makes it accessible wherever and whenever it is required to transform customer relationships and drive business growth. Over 300 companies worldwide, including Hearst Newspapers, Heineken, ING, T-Mobile, UEFA, and VF Corp, use BlueConic to unify data into persistent, individual-profiles, and then activate it across customer touchpoints and systems in support of a wide range of growth-focused initiatives, including customer lifecycle orchestration, modeling and analytics, digital products and experiences, audience-based monetization, and more. BlueConic is a global company with offices in the US and Europe. Learn more at http://www.blueconic.com and follow us on Twitter and LinkedIn @BlueConic.