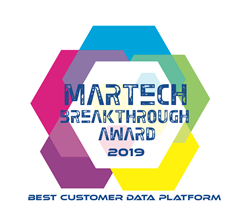 "With BlueConic's pure-play CDP, which solves for both the unification and activation data challenges, marketers can finally make the single customer view the center of their entire infrastructure." - James Johnson, Managing Director at MarTech Breakthrough
BOSTON (PRWEB) August 07, 2019
BlueConic, the world's leading customer data platform (CDP), today announced that it has been selected as the winner of the "Best Customer Data Platform" award by MarTech Breakthrough, a leading market intelligence organization that recognizes the top companies, technologies, and products in the global marketing, sales, and advertising technology industry today.
The mission of the MarTech Breakthrough Awards is to honor excellence and recognize the innovation, hard work, and success in a range of marketing, sales, and advertising technology related categories, including marketing automation, market research and customer experience, AdTech, SalesTech, marketing analytics, content and social marketing, mobile marketing, and many more. This year's program attracted more than 2,500 nominations from over 15 different countries throughout the world.
"We often see marketers not only struggle to make use of their first-party data in marketing programs, but also to get access to the data that is scattered across different systems that are out of their direct control. Without the right technology in place to unify and activate all this data in real time for marketers, it's impossible to orchestrate the individualized experiences that are necessary to compete in today's data-driven environment," said James Johnson, Managing Director at MarTech Breakthrough, "But with BlueConic's pure-play CDP, which solves for both the unification and activation data challenges, marketers can finally make the single customer view the center of their entire infrastructure. It's a true MarTech industry 'breakthrough' that will empower marketers to be more effective at every stage of the customer lifecycle. Congratulations to BlueConic for their well-deserved 2019 MarTech Breakthrough Award designation."
When you compare BlueConic to other CDPs, there are three areas where BlueConic always shines:
1. Marketing owned-and-operated, IT approved - BlueConic has been focused on the marketer since its inception, solving the challenges specific to the marketing organization when it comes to customer data access. That means designing a platform that is real-time, intuitive, and fully accessible with a point-and-click interface for segmentation, data collection, and activation within the context of the marketer's needs. And because data privacy is core to the platform, it is built on an infrastructure and governance model that IT will not just support, but also be enthusiastic about bringing on.
2. Accelerated time-to-value - Historically, data and technology projects are extensive and poorly-scoped, resulting in years between purchase and implementation, and between kickoff and results. So BlueConic has designed the platform and onboarding process so marketers will see value in weeks and months, while providing a clear roadmap to expand their use cases over time. These same principles also reduce the level of effort and resources required to support the BlueConic implementation.
3. Scale for today's goals and tomorrow's ambitions - BlueConic creates a unified, actionable customer view – but the nature of today's consumer journeys is that this view is dynamic. So managing the single customer view is more of a discipline than an outcome of a CDP implementation. That's why BlueConic's underlying architecture was designed to provide flexibility and efficiency over time, rather than locking marketers into particular data schemas or saddling them with ballooning data storage costs over time.
"We are honored to be recognized as the Best Customer Data Platform by MarTech Breakthrough Awards," says Bart Heilbron, CEO of BlueConic. "As the original CDP on the market, we've been liberating first-party data across our customers' organizations for many years. And we've remained committed to our mission by continuously expanding the platform's capabilities, particularly in the area of machine learning. Using our AI Workbench, both data scientists and marketers alike can run predictive models in real time across all their customer profiles in order to build smarter segments and activate marketing informed by the next best action. We're thrilled to receive this 2019 MarTech Breakthrough Award and industry recognition of our continued effort to liberate first-party data for marketers worldwide."
###
About BlueConic
BlueConic, the world's leading customer data platform, liberates marketers' first-party data from all the disparate systems in which it exists, and makes it available wherever and whenever it is required for marketing. Nearly 300 consumer and B2B brands, including Hearst Newspapers, Moen, T-Mobile, ING, America's Test Kitchen, and American Kennel Club, leverage BlueConic to unify their first-party customer data into robust, person-level profiles, and then activate it across their marketing ecosystem. Founded in 2010, the company is headquartered in Boston, with offices in Europe. Follow us on Twitter and LinkedIn @BlueConic.
About MarTech Breakthrough
Part of Tech Breakthrough, a leading market intelligence and recognition platform for global technology innovation and leadership, the MarTech Breakthrough Awards program is devoted to honoring excellence in marketing, ad and sales technology companies, products and people. The MarTech Breakthrough Awards provide a platform for public recognition around the achievements of breakthrough marketing technology companies and products in categories including marketing automation, AdTech, SalesTech, marketing analytics, CRM, content and social marketing, website, SEM, mobile marketing and more. For more information, visit MarTechBreakthrough.com.