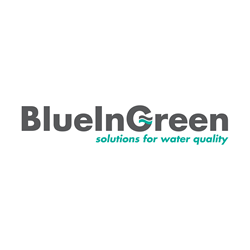 "Our growth isn't a surprise. It's just a start." - BlueInGreen President and CEO Chris Milligan, PE
FAYETTEVILLE, Ark. (PRWEB) August 17, 2020
BlueInGreen, LLC—a water cleantech company and provider of the most efficient method of dissolving oxygen, carbon dioxide and ozone into water—announced today that it has been named to Inc. Magazine's annual Inc. 5000 list, an exclusive showcase of the nation's fastest-growing private companies.
BlueInGreen came in at number 2,080, outperforming over half of the competing companies by achieving a 203% growth rate over the last three years. In doing so, BlueInGreen joins an elite list of past Inc. 5000 honorees, such as Dell, Domino's, LinkedIn, Microsoft, Pandora, Under Armour, Yelp and Zillow.
Co-founded by two University of Arkansas professors and VIC Technology Venture Development in 2004, BlueInGreen has quickly grown in size, scale and scope, emerging as an industry leader in water treatment.
"It's an honor to be recognized by the Inc. 5000 and to be named alongside so many innovative companies and iconic brands," said BlueInGreen President and CEO Chris Milligan, PE. "Our success is the culmination of years of hard work, dedication and determination from our employees, our investors, our sales reps and countless others."
Started in 1982, the prestigious Inc. 5000 list has become a hallmark of entrepreneurial success among privately held companies in the United States. As an honoree, BlueInGreen will be featured on Inc.com and in the September edition of Inc. Magazine—each with a monthly readership of 33 million views and 1.4 million subscribers, respectively.
"The companies on this year's Inc. 5000 come from nearly every realm of business," says Inc. Editor-In-Chief Scott Omelianuk. "From health and software to media and hospitality, the 2020 list proves that no matter the sector, incredible growth is based on the foundations of tenacity and opportunism."
With more than 100 units sold to date, treating over 1 billion combined gallons of water across North America each day, BlueInGreen has added Campbell's, Del Monte Foods, Georgia-Pacific, Koch Industries, Seaboard Triumph Foods, Tyson Foods and Mountaire Farms to its growing list of industrial clients as the Company continues to evolve—hiring employees to accommodate record sales, establishing its contract services division, BIG Aeration Services, and expanding its product line to include the fully-functional, mobile containerized systems complete with automated controls and communications.
"We constantly pursue efficiency and effectiveness," Milligan said. "Not just in how we treat water, but in how we serve our customers—listening to our customers and adapting both our technology and service offerings to fulfill their needs. To be fair, although both our containerized solutions and BIG Aeration Services were introduced in 2019, they are the result of years of insight gained through quality customer relationships."
"Our growth isn't a surprise," added Milligan. "It's just a start."
The Company enables customers to implement BIG solutions using either capital or O&M budgets. Treatment-as-a-Service provides end-users the financial flexibility of monthly performance contracts with the ease of modular, mobile containerized treatment systems, able to be removed or transitioned to new locations as treatment needs change. By embracing the Treatment-as-a-Service (TaaS) model, both BlueInGreen and BIG Aeration Services leverage groundbreaking equipment with unparalleled engineering expertise, ideally suited for mitigating perceived-risk with new customers in emerging markets, addressing emergency sanitation needs, preventing urgent compliance issues and protecting environmental standards.
"BlueInGreen is at the right place at the right time with the right stuff," continues Milligan. "We're leading the industry-wide trend of replacing chemicals, polymers and ambient air with oxygen, carbon dioxide and ozone."
According to Tyler Elm, the Company's Chief Sustainability Officer, BlueInGreen's position is buoyed by powerful, supporting market forces.
"BlueInGreen is addressing global problems at the energy-water nexus," Elm says. "We are helping our customers address society's increasing demands for food, fiber, energy and water in a world of unprecedented urbanization, population growth and climate change. Simply put, we're right in the thick of it with a proven value proposition of being able to 'do more with less.' More and better treatment with less risk, maintenance, energy and greenhouse gas emissions. Truly, 'triple-bottom-line' performance."
About BlueInGreen
BlueInGreen (BIG) is a water cleantech company that provides the most efficient method of delivering dissolved oxygen, carbon dioxide and ozone into water. Backed by over 150 years of combined treatment experience, BIG offers the most cost-effective solutions for oxygenation, pH adjustment, oxidation and odor control. For more information, visit blueingreen.com.
About Inc. Media
Founded in 1979 and acquired in 2005 by Mansueto Ventures, Inc. is the only major brand dedicated exclusively to owners and managers of growing private companies, with the aim to deliver real solutions for today's innovative company builders. Inc. took home the National Magazine Award for General Excellence in both 2014 and 2012. The total monthly audience reach for the brand has been growing significantly, from 2,000,000 in 2010 to more than 20,000,000 today. For more information, visit inc.com.