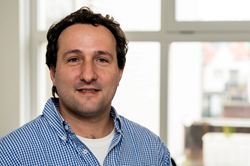 "Compared to a conventional bubble diffuser, the SDOX® offers many advantages. It can deliver more oxygen using less energy within a smaller footprint." - Hector Garcia Hernandez, Associate Professor of Wastewater at the IHE Delft Institute for Water Education
FAYETTEVILLE, Ark. (PRWEB) August 24, 2020
BlueInGreen, LLC—a water cleantech company and provider of the most efficient method of dissolving oxygen, carbon dioxide and ozone into water—has been highlighted in the second edition of Biological Wastewater Treatment as a top-performing solution for membrane bioreactor (MBR) applications.
Primarily focused on a fundamental first-principles approach based on chemistry, microbiology, physical and bioprocess engineering, mathematics and modelling, the first edition of Biological Wastewater Treatment was released in September 2008 and would go on to become IWA Publishing's bestseller. However, according to IWA, the advancements and developments in wastewater treatment have accelerated in recent years, prompting the release of an updated second edition.
"The authors, all still active in the field, are aware that cleaning dirty water has become more complex but that it is even more urgent now than 12 years ago," IWA Publishing wrote in a prepared statement. "While all the chapters of the first edition have been updated to accommodate these advances and developments, some, such as granular sludge, membrane bioreactors, sulphur conversion-based bioprocesses and biofilm reactors, which were new in 2008, have matured into new industry approaches and are also now included in this second edition."
One addition to the textbook is BlueInGreen's SDOX® (Supersaturated Dissolved Oxygen) technology, which at the time of the first edition's publication had only one commercial installation. Now, having sold more than 100 installations treating more than 1 billion combined gallons of water each day, BlueInGreen is featured prominently in the second edition's 13th chapter, titled "Membrane Bioreactors."
"Technologies evolve just as companies evolve," said the chapter's co-writer, Hector Garcia Hernandez, an Associate Professor of Wastewater at the IHE Delft Institute for Water Education. "In 2008, the SDOX® wasn't on our radar. We weren't even thinking about treating water in that way, but now we are well aware of what BlueInGreen's technology is capable of, so much so that we felt obligated to mention these advances and practical applications in the second edition."
Garcia's research supporting the SDOX® inclusion in the "Practical Applications" section of the Textbook, evaluated the oxygen transfer performances of the SDOX® system in MBR systems in a range of mixed liquor suspended solids (MLSS) concentrations, primarily above 10,000 mg/l. His work, which compares BlueInGreen's SDOX® technology with conventional bubble diffusers, showed a much higher oxygen transfer efficiency for the SDOX® system compared to conventional aeration methods at high MLSS concentrations.
"Compared to a conventional bubble diffuser, the SDOX® offers many advantages," Garcia said. "It can deliver more oxygen using less energy within a smaller footprint. On top of that, by replacing diffusers, there are no fouling issues and thus less maintenance is required—which cuts costs but also saves time. I see tremendous opportunity for SDOX® technology in both centralized and increasingly distributed approaches to wastewater treatment and environmental remediation—like we see being implemented in Uruguay, Brazil and throughout Latin America."
A membrane bioreactor (MBR) is the combination of a membrane process like microfiltration or ultrafiltration with a biological wastewater treatment process, commonly an activated sludge process, now widely used for municipal and industrial wastewater treatment.¹ When applied to treatment of domestic wastewater, MBR processes can produce effluent of a quality high enough to be discharged to coastal, surface or brackish waterways, or reclaimed and recycled for urban irrigation.
Other advantages of MBRs over conventional processes include a small footprint, ease of retrofitting and enhancing the capacity of overloaded treatment plants, and the ability to employ dense and extremely robust, older, more biologically diverse populations of bacteria that are better able to withstand toxic shocks, such as industrial river pollutants that may negatively affect environmental remediation installations, or the unintentional inputs of industrial cleaners commonly used to maintain production facilities in the food and many other industries.
Because one operates MBR processes at higher mixed liquor suspended solids concentrations (e.g. MLSS: 10,000+ mg/l) compared to conventional settlement separation systems, one may reduce the reactor volume for a given loading rate, increase the aerobic sludge retention time (e.g. SRT: 28 days+) to enhance the resiliency of the biological system, or a combination thereof to achieve the best treatment at the lowest combination of risk and cost for a specific application.
Technical innovations proven in a variety of municipal and industrial applications, combined with a significant reduction in membrane costs have enabled MBRs to become an established process for wastewater treatment and distributed environmental remediation projects. The estimated global market size for MBR was US$3.44 billion in 2018.²
"Our mission at IHE is to keep exploring and advancing practical technologies and applications," said Garcia. "We hope this resource continues to make a positive impact in how the world treats wastewater because that's what we love to do.
"All in all, industries and municipalities not taking advantage of improved and established technologies are missing an invaluable opportunity to improve their process, their bottom lines and, ultimately, the environment at large."
Since 2008, BlueInGreen's momentum has skyrocketed, its technology becoming particularly popular among high-load, industrial applications.The Company has added Campbell's, Del Monte Foods, Georgia-Pacific, Koch Industries, Seaboard Triumph Foods, Tyson Foods and Mountaire Farms to its growing list of industrial clients as BlueInGreen continues to scale and evolve—hiring employees to accommodate record sales, establishing its Treatment-as-a-Service division, BIG Aeration Services, and expanding its product line to include the fully-functional, mobile containerized systems complete with automated controls and communications. Most recently, BlueInGreen was named to Inc. Magazine's annual Inc. 5000 list, an exclusive showcase of the nation's fastest-growing private companies.
"We are very proud to be recognized in IWA Publishing's second edition of Biological Wastewater Treatment," said BlueInGreen CEO and President Chris Milligan, PE. "BlueInGreen's technology is, quite literally, a 'textbook example' of proven innovation in wastewater. It's not just an important chapter for the book. It's an important chapter for our company as well."
Biological Wastewater Treatment: 2nd Edition is on sale now.
About IWA Publishing
IWA Publishing spreads knowledge about our most valuable resource, water, helping to improve global health and well-being. We publish a portfolio of 15 peer reviewed journals and 800 books, along with other information resources. For more information, visit iwapublishing.com.
About IHE Delft Institute for Water Education
IHE Delft Institute for Water Education is the largest international graduate water education facility in the world and is based in Delft, the Netherlands. The Institute confers fully accredited MSc degrees, and PhD degrees in collaboration with partner universities. For more information, visit un-ihe.org.
About BlueInGreen
BlueInGreen (BIG) is a water cleantech company that provides the most efficient method of delivering dissolved oxygen, carbon dioxide and ozone into water. Backed by over 150 years of combined treatment experience, BIG offers the most cost-effective solutions for oxygenation, pH adjustment, oxidation and odor control.
¹ Judd, The MBR Book (2006) Principles and applications of membrane bioreactors in water and wastewater treatment, Elsevier, Oxford ISBN 1856174816.
² WaterWorld. Membrane multiplier: MBR set for global growth." WaterWorld.