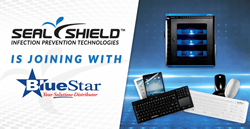 HEBRON, Ky. (PRWEB) September 24, 2020
The COVID-19 Pandemic has forced every organization, employee environment and consumer-facing operation to adopt healthcare's best practices within infection control. This includes all employee staff and customer points of contact, including the equipment and devices they use.
With a long history of serving the healthcare industry, Seal Shield presents solutions for infection prevention, such as washable & waterproof peripherals that possess the capability to be disinfected in a safe and efficient manner. BlueStar has announced that they will be linking up with Seal Shield to distribute their line of products, in order to help sanitize POS and payment terminals, retail environments, and medical staff contact areas, while also working to stop the spread of the Coronavirus pandemic.
No matter what the size of the organization, there are always staff, office workers, and customers who come into contact with keyboards & mice, devices with touchscreens and other surfaces every day. Seal Shield's medical-grade keyboards and mice, UV-resistant touch-screen protectors, and advanced UV-C disinfection systems for mobile devices are part of a large array of solutions to help mitigate workplace risk of contamination for healthcare staff and employees everywhere.
"We are excited to announce our new distribution partnership with Seal Shield," said Mike Byington, Vice President of Business Development with BlueStar. Byington noted, "Their innovation and reputation as pioneers in infection prevention aligns well with not only BlueStar's healthcare vertical market programs and solutions, but also with most of the other markets we serve. The challenge of combatting the spread of infection has never been more pertinent, and Seal Shield solutions can help our customers address this issue."
"BlueStar brings extensive distribution capabilities for Seal Shield products and will help our organization serve an even greater base of customer needs, while continuing our tremendous growth," said Brad Whitchurch, Founder & CEO for Seal Shield. "We're thrilled with the potential that this new partnership represents!" added Whitchurch.
About BlueStar
BlueStar is the leading global distributor of solutions-based Digital Identification, Mobility, Point-of-Sale, RFID, Digital Signage, Networking and Security technology. BlueStar works exclusively with value-added resellers to provide complete solutions, business development and marketing support. The company brings unequaled expertise to the market, offers award-winning technical support and is an authorized service center for a growing number of manufacturers. BlueStar is the exclusive distributor for the In-a-Box™ Solutions Series, delivering hardware, software and critical accessories in one bundle with technology solutions across all verticals. For more information, please contact BlueStar at 1-800-354-9776 or visit http://www.bluestarinc.com.
About Seal Shield
Seal Shield is a world leader in innovative infection-control and healthcare technology. Seal Shield designs, develops, and manufactures medical-grade solutions including waterproof keyboards and mice, screen protectors, and UV-C disinfection systems for portable devices & equipment. Learn more at http://www.sealshield.com