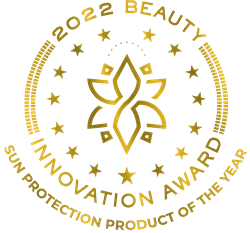 By marrying the cosmetic and fashion industry, our goal is to continue to produce high quality products that serve a purpose and look great at the same time - Jen Podany, CEO of Bluestone Sunshields
LOS ANGELES (PRWEB) November 10, 2022
The Beauty Innovation Awards Program, the industry's most robust recognition platform for the innovators and leaders of the Beauty industry, today announced that Bluestone Sunshields, the standout provider of sun protection products and most notably known for their Full Lux Sunshield line, has been awarded the "Sun Protection Product of the Year" award in the 2022 Beauty Innovation Awards Program. This awards program aims to evaluate and recognize the most outstanding and innovative companies, services, and products revolutionizing and advancing the Beauty industry through goods, services, and technology.
Bluestone Sunshields provides the best in fashionable sun protection without the use of chemicals or creams. The company works closely with medical and industry leaders in order to provide exceptional products that focus around sun protection that is also fashionable.
All Bluestone Sunshields start with the same processes of mixing their UV filtering material into the lens. These processes allow for 99.0% of UV rays to be blocked. Anything product with a tint or color treatment undergoes a few extra steps which add additional blocking capabilities.
The Black Lux Shields have UV Blocking and Tint which allows for closer to 99.5% protection while their Colored Shields (Rainbow, Chrome, Mermaid) have Color Treatment + UV Blocking + Tint which allows for closer to 99.9% UV Blocking.
Bluestone Sunshields are tested according to the American National Standards Institute - a voluntary set of technical regulations that demonstrate their products meet the standards in safety and protection. These tests are completed by a third party lab as well as frequent in-house testing.
Recent updates include using a more flexible insert inside the headband, revisions to their production method and the addition of an adjustable hook and strap on the back of the band. Lastly all products are heat resistant and ANSI Z80.3 approved.
"We're incredibly pleased to be recognized with this award from Beauty Innovation. Our products were developed to provide a fashionable solution to both privacy and sun protection. We always strive to provide the best quality products and we take very seriously the feedback we receive from our incredible customer base. This has resulted in many positive changes over the years," said Jen Podany, CEO of Bluestone Sunshields. "By marrying the cosmetic and fashion industry, our goal is to continue to produce high quality products that serve a purpose and look great at the same time. We're proud to be doctor recommended."
As part of the Independent Innovation Awards organization, the mission of the Beauty Innovation awards is to celebrate and highlight the efforts and success of innovators and leaders in the Beauty industry. Built to recognize the most outstanding companies, services and products within the rapidly expanding Beauty industry, the awards recognize a range of beauty industry categories, including Bath & Body, Hair, Skin, & Mens Grooming and more. The 2022 Beauty Innovation Awards attracted over 2,500 nominations from around the world.
"We all know the risks of sun exposure - particularly to the face. At best, you will be dealing with premature aging and at worst, skin cancer. Patients who have had recent cosmetic procedures are particularly at risk as they can't always apply sunscreen to the affected areas," said Travis Grant, Managing Director, Independent Innovation. "Bluestone Sunshields are perfect for any outdoor activity when you need extra protection. They can protect your skin from skin cancer and are flexible. Worn up, they are like a visor while worn down, they protect your face as if you were wearing sunblock. Congratulations on being our choice for 'Sun Protection Product of the Year!''"
Bluestone Sunshields can be found in luxury retailers, med spas and online.
####
About The Beauty Innovation Awards
Part of Independent Innovation Awards organization, a global market intelligence and recognition program within the most competitive consumer categories, The Beauty Innovation Awards honors the most outstanding and innovative companies, services, and products within the rapidly expanding Beauty industry. The Beauty Innovation Awards provides public recognition for the achievements of beauty industry companies and products including Bath and Body, Make-up, Skin, Retailers and Services, and more. For more information visit: http://www.beautyinnovationawards.com.
About Bluestone Sunshields
Bluestone Sunshields is the #1 doctor recommended brand of sunshield. Founded by licensed esthetician, Jen Podany, when she saw a need for a product that would provide privacy and sun protection for her patients who had undergone treatments leaving them extremely sensitive to sunlight. As a result of the company's work with top doctors, cosmetic laser manufactures and skin care professionals, Bluestone is founded on the mission to provide the best and most fashionable protection against the elements.