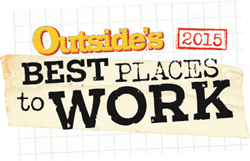 The companies recognized in this year's Best Places to Work list are the gold standard for stellar work environments that seek to empower their employees both in and out of the office.
Carbondale, CO (PRWEB) November 19, 2015
Bluetent was named No. 23 on OUTSIDE's Best Places to Work 2015, marking 4 consecutive years that Bluetent has been selected to the list. Each year, OUTSIDE recognizes the top 100 companies in the United States that help their employees strike the ideal balance between work and play. These companies encourage employees to lead an active lifestyle, are eco-conscious, and prioritize giving back to the community. The entire list of winners appears online at http://www.outsideonline.com/dreamjobs.
"The companies recognized in this year's Best Places to Work list are the gold standard for stellar work environments that seek to empower their employees both in and out of the office," said OUTSIDE Online Editor Scott Rosenfield. "The new categories in this year's list serve to highlight outstanding workplaces in distinctive fields—making it all the easier for our readers to find their dream jobs."
"We are extremely honored to be recognized by Outside Magazine as a Best Place to Work for 2015." said Peter Scott, President of Bluetent. "I am always amazed at the people, work ethic, and quality our team provides for our clients and their success. This in turn creates a company culture that fosters creativity, innovation, quality, and camaraderie, allowing us to keep pushing boundaries. This philosophy builds a true team, and we are honored to be recognized for this culture and success."
To find the best places to work in the United States in 2015, OUTSIDE started by creating five company categories that reflect the magazine's values and focus: Adventure/Travel, Wellness, Culture, Gear, and Media. OUTSIDE then conducted a rigorous vetting process in partnership with the Best Companies Group to assess the policies, practices, and demographics of hundreds of companies. Outside's Best Places to Work 2015 was driven by employee reviews of their workplaces, taking into account factors like corporate culture, role satisfaction, work environment and overall employee engagement. The Best Places to Work list represents the cream of the crop: companies that are empowering their employees to live bigger, better lives.
Bluetent's company culture extends beyond the perks that go along with living in the beautiful Rocky Mountains. As a digital agency for the vacation rental, resort, and hospitality industries, Bluetent's dynamic team shares core values that are the backbone to the agency: teamwork, passion, quality, courage, and work-life balance. Using these values as guiding principles, the team is dedicated to delivering innovative marketing strategies for their clients that inspire travelers and create long-term, sustainable growth.
The complete list of Best Places to Work winners is featured online at http://www.outsideonline.com/dreamjobs.
###
About Bluetent: Bluetent is a digital agency located in Carbondale, Colo., specializing in resort, travel and tourism industries. Bluetent provides strategic consulting, brand design, web development, email marketing, social media, and search / inbound marketing services. With a growing team, Bluetent offers a unique blend of products and services that create comprehensive, successful, online marketing strategies. Learn more at http://www.bluetent.com and view current employment opportunities
Contact Information:
Bluetent: Julia Southworth | julia(at)bluetent.com | 970.704.3269
About OUTSIDE: OUTSIDE is America's leading active lifestyle brand. Since 1977, OUTSIDE has covered travel, sports, adventure, health, and fitness, as well as the personalities, the environment, and the style and culture of the world Outside. The OUTSIDE family includes OUTSIDE magazine, the only magazine to win three consecutive National Magazine Awards for General Excellence, The Outside Buyer's Guides, Outside Online, Outside Television, Outside Events, Outside+ tablet edition, Outside Books, and now Outside GO, a revolutionary, 21st-century adventure-travel company. Visit us online and on Facebook, and follow us on Twitter.
ABOUT THE BEST COMPANIES GROUP: Best Companies Group works with national and local partners around the country and internationally to establish and manage "Best Places to Work," "Best Companies," and "Best Employers" programs on a national, statewide, regional and industry basis. Through its thorough workplace assessment, utilizing employer questionnaires and employee-satisfaction surveys, BCG identifies and recognizes companies who have been successful in creating and maintaining workplace excellence.