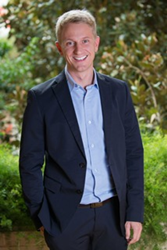 "His new leadership role will build a team that drives revenue for the company in years to come," - Andy Latimer CEO Bluewater
CLEARWATER, Fla. (PRWEB) January 07, 2020
Bluewater Agency announced today its CEO and founder, Andy Latimer, has promoted Adam Warfield to the new position of Vice President of Sales and Strategic Partnerships.
Adam has over 11 years of experience in the world of direct response marketing and eight years in international sales and marketing. Previously he held positions at Infusion Brands, Home Shopping Express and Oak Lawn Marketing before coming over to Bluewater Media as International Marketing Director in January 2018. Adam is a Florida native and currently calls Spain his home.
"I have full confidence that Adam will continue in the success he has shown over the last year and his new leadership role will build a team that drives revenue for the company in years to come," Latimer said. "He has shown his strength as a leader and a critical thinker in developing the businesses of Bluewater."
His dedication and drive have shown his commitment to a larger role in the company. In addition, he will continue to retain his previous role as the International Marketing Director but now all sales efforts will be channeled through his team.
ABOUT BLUEWATER:
Bluewater is a converged advertising and marketing agency that utilizes digital and broadcast creative, media strategy and transactional e-commerce to introduce products to market and build lasting brand awareness. Bluewater was the first end-to-end, fully digital, tapeless studio in the state of Florida. Its digital division provides social media, digital production, digital advertising, and turnkey solutions to maximize product visibility and sales on consumer websites, Amazon and other marketplaces, including handling all aspects of inventory, marketing, and the sales process. Through Bluewater's proprietary ReadyShop platform, influencers are able to monetize their traffic through the sale of over 5,000 products from some of the best brands in the world. In just five minutes, a blog can have a fully integrated curated e-commerce store. Visit https://bluewater.tv for more information.