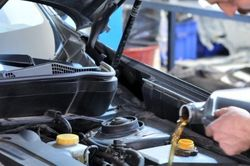 COLUMBIA, S.C. (PRWEB) January 22, 2023
Interested customers looking for a reliable and affordable place to get an oil change service in and around Columbia can look at the services offered by Bluff Road Auto Sales dealership.
Changing the oil in the vehicle is a common maintenance technique that keeps the car operating smoothly. All the moving elements in the engine are lubricated by oil, which may degrade and lose some effectiveness over time.
The question of how frequently one should change the oil is still being determined. However, most auto manufacturers advise getting the service every 5,000 miles. The Bluff Road Sales dealership offers skilled employees who have received training to ensure that the vehicle is maintained correctly.
Drivers may unwind and trust the professionals because after the maintenance is finished, they will enjoy improved fuel efficiency and better road safety. Due to the competitive costs and convenient same-day appointments, now is a great time to have the automobile serviced at the dealership!
Interested shoppers can visit the website http://www.bluffusedcarscolumbiasc.com to learn more about the numerous deals and auto services provided at the Bluff Road Auto Sales business. The dealership is located at 1400 Bluff Road in Columbia, South Carolina, 29201, or call 833-939-1508 for more information about used vehicles.