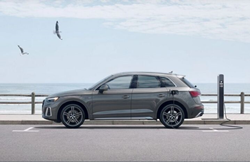 COLUMBIA, S.C. (PRWEB) May 23, 2023
Bluff Road Auto Sales takes pride in offering an extensive collection of used vehicles with AWD technology. From sedans and SUVs to trucks and crossovers, customers can now choose from a diverse range of AWD options that suit their preferences and lifestyle.
With AWD, power is distributed to all four wheels, enabling better grip and control, especially in challenging weather conditions such as rain, snow or uneven terrain. This feature provides drivers an extra layer of confidence, making AWD vehicles a preferred choice for those seeking a reliable and safe driving experience.
Each vehicle undergoes a rigorous inspection and comprehensive reconditioning process, ensuring that it meets the dealership's highest reliability, safety and performance standards. Customers can rest assured that their AWD vehicle purchase from Bluff Road Auto Sales represents a dependable and long-lasting vehicle investment.
Bluff Road Auto Sales goes above and beyond to provide an exceptional customer experience. Their knowledgeable and friendly sales team is dedicated to helping customers find the perfect AWD vehicle that suits their needs and budget. By understanding individual requirements and preferences, they guide customers throughout the selection and purchasing process, ensuring a hassle-free experience from start to finish.
The dealership believes in transparent and fair pricing. Their AWD vehicles are competitively priced, offering excellent value for customers. Additionally, the dealership provides flexible financing options to make owning an AWD vehicle more accessible and convenient. With their network of trusted lenders, they work diligently to find the best financing solutions tailored to individual financial situations.
For more information on all-wheel-drive pre-owned vehicles or to browse the selection at Bluff Road Auto Sales, customers are encouraged to visit their website: https://www.bluffusedcarscolumbiasc.com/ or contact them at 833-939-1508. The dealership is located at 1400 Bluff Road, Columbia, South Carolina.