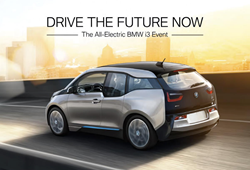 We're hoping this event will be the beginning of a successful future for the BMW i3 at our Reading location.
Reading, PA (PRWEB) May 27, 2014
BMW of Reading will be hosting an All-Electric BMW i3 test drive event at their location June 3rd, to promote the newly launched and critically acclaimed All-Electric BMW i3 to prospective customers.
BMW of Reading's test drive event is part of an extensive promotional campaign for a successful launch of the BMW i3, BMW's first electric production car, in the United States.
"Interested clients will be introduced to everything the BMW electric car has to offer in terms of quality, convenience, and innovation," stated General Sales Manager Phil Franco. "We're hoping this event will be the beginning of a successful future for the BMW i3 at our Reading location."
Registration will take place at the event, before the first series of test drives. Six BMW i3 vehicles will be available for scheduled test drive intervals as an onsite tour staff provides information to interested clients.
About BMW i3
Recently awarded the top prize in UK's 2014 Car of the Year Awards, the All-Electric BMW i3 is guaranteed to provide drivers with an advanced and convenient driving experience. Locally emission-free and equipped with an E-Drive that transfers energy from the motions of the wheels back to the battery once the foot is eased off the accelerator pedal, the BMW i3 is largely defined by its use of renewable resources and environmentally-conscious innovations.
Highlighted features of the BMW i3 include a passenger compartment entirely composed of light yet high-strength carbon, offering passengers maximum protection in the event of an accident; a wall box that provides quick and efficient battery charging at home; BMW iConnected Drive Services, which takes into account battery charge level, driving style and traffic as it offers the most convenient and quickest route to nearby charging stations or any destination; and parking may be done autonomously with the help of the parking assistant system.
To learn more about the All Electric BMW i3 and the upcoming test drive event, visit BMW of Reading at 1015 Lancaster Avenue, visit our website at http://www.bmwofreading.com/, or contact a staff member at (610) 777-1500 for further inquiries.
BMW of Reading offers an expansive inventory of new and pre-owned BMWs, available at below-market prices. We also sell vehicle parts and offer specialized care from our full service department. Consider purchasing your next BMW at our location at 1015 Lancaster Avenue, Reading, PA 19607, or search through our inventory online at http://www.bmwofreading.com/. Our top-notch staff will assist you in finding the right vehicle that will best fit your personal needs.