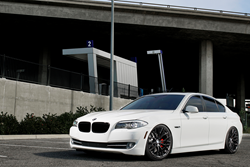 We designed the Antler Wheel using inspiration from BMW's sporty M style bumpers
Brea, CA (PRWEB) August 02, 2017
Beyern Wheels, a leader in BMW aftermarket wheels solely for BMW cars and SUVS, introduces the new Antler wheel. The Antler takes BMW's complementary mesh wheel style and reinvents it for the modern world. These BMW wheels feature a ten window mesh pattern with crisp corners and three dimensional surfacing made possible only by the company's new adaptation to advance design software.
Named after its bold Antler-like appearance, the wheels spokes horn from its center meeting the lip with mirror machine triangular shapes. Available finishes include Silver with Mirror Cut Face or Matte Black with Gloss Black Face. Proud and graceful as the reindeer, the Antler's mesh geometry will perfectly accommodate BMW's ultimate driving machines.
"We designed the Antler wheel using inspiration from BMW's sporty M style bumpers," says Alvin Thai, designer at Beyern Wheels. "BMW car bodies feature smooth organic shapes on top and become more crisp and defined moving towards the bottom. We wanted to design a wheel that would fit right into that mold. The Antler Wheels form language complements BMW's angular shapes such as the fog light housings. It is a wheel that gives the viewer different shapes and patterns based on the angle that they are observing from. We chose the mesh styling because we know BMW owners have favored that form for many years, but we wanted to reinvent that style not recycle it. We wanted to bring something new to the table and the result is the all original Antler."
Antler BMW Wheels are made with Rotary forging® technology, which while more complex, results in a wheel that is both dramatically lighter in weight and stronger than a conventional cast alloy wheel. A rotary forged® wheel is created from an initial thick cast molding, it is then spun at high velocity stretching the rim to desired widths. During this process of high velocity compression the metals molecular structure is fundamentally altered creating a much stronger alloy than a traditional cast alloy. The result is weight saving to the outermost circumference of the wheel, so that rotational mass is dramatically lowered which enhances vehicle performance and handling.
The Antler is available in 17x8, 17x9, 18x10, 18x8.5, 18x9, 19x8.5, 19x9, 19x9.5, 19x10, 20x9, 20x10, 22x9, 22x10, 22x10.5, 22x11. All of these sizes are made to clear BMW brake calipers and come in the perfect offsets to give the vehicles full fitment. Beyern BMW wheels are also compatible with OEM center caps for those that want to retain the OEM look. In each size, two widths are available to accommodate with BMW's staggered footprint made for both performance and style. This gives the vehicle a more aggressive stance, and improved off the line and lateral acceleration. To find out what fits on your vehicle simply log on to http://www.BeyernWheels.com to use the Vehicle Fitment Guide or BMW Wheels Configurator to preview a wheel on your car.
For a dealer near you, call1 888-766-7775 or visit Beyern Wheels on the web at beyernwheels.com/. Beyern dealers are located throughout North America and worldwide, including Discount Tire Direct on the web at discounttiredirect.com/. For additional Wheels, visit TSW Alloy Wheels on the web at TSW.com