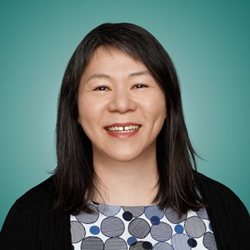 "Executive recruiters are influential partners in shaping the next generation of corporate leadership. It's an honor to join AESC and I look forward to seeing how we can accelerate the transformation of companies." - Bo Young Lee
NEW YORK (PRWEB) July 21, 2021
The Association of Executive Search and Leadership Consultants (AESC) announced today that Bo Young Lee, Chief Diversity & Inclusion Officer at Uber, has been appointed to the global trade association's Board of Directors as an independent director.
Lee is a globally recognized D&I and human capital executive and a widely sought-after speaker. Based in New York, Lee leads Uber's diversity and inclusion efforts in the company, with stakeholders, and in the communities where Uber operates. She partners with Uber's senior leadership to build a work culture where diverse and inclusive teams drive innovation, accelerate growth, and build systems where all employees have the opportunity to excel and grow to their highest potential.
Prior to joining Uber, Lee was the first Global Diversity and Inclusion Officer for the Risk and Insurance Services businesses for Marsh and McLennan Companies. She also launched and led Aon/Hewitt Associates' Global Emerging Workforce Solutions consulting practice and held diversity leadership roles at Ernst & Young and National Grid. She served as a Director of Advisory Services at Catalyst, the leading nonprofit focused on the advancement of women in business. As a consultant and thought leader, she has enabled dozens of clients to achieve their diversity and inclusion goals. Past clients include Marriott International, Northern Trust, John Deere, Allstate, Booz & Co., Discover, Aon, Human Rights Campaign, and McKesson. Lee has an MBA with distinction from New York University's Stern School of Business and a BBA magna cum laude from the University of Michigan's Ross School of Business. In addition to her role at Uber, she provides pro-bono guidance as D&I advisor to the League of American Orchestras, NYC Arts in Education and as a lecturer at the Hispanic Association on Corporate Responsibility.
The AESC Global Board of Directors combines elected representatives from each of AESC's three Regional Councils: Americas; Asia Pacific and Middle East; Europe and Africa, with now three independent directors. Lee is the third independent director appointed to the AESC Board in the association's more than 60-year history, after the appointment of Stefan Spang of McKinsey & Company in 2017 and Roxanne Taylor of Memorial Sloan Kettering in 2018.
Lee stated: "Executive recruiters are influential partners in shaping the next generation of corporate leadership. It is imperative that the industry is aligned in how they can ensure that next-generation talent fully reflects the diversity of the marketplace. It's an honor to join AESC and I look forward to seeing how we can accelerate the transformation of companies."
Lee's appointment follows a search process managed by AESC's Nominating and Governance committee, chaired by Nobi Kaneko, President, Kaneko & Associates. The AESC Board of Directors ensures that AESC membership represents the highest quality standard in the executive search and leadership consulting profession globally. "Bo will bring an important outside perspective to the AESC Board as we continue to support our clients in placing diverse talent on Boards and C-suites and building inclusive organizational cultures," stated Kaneko.
About AESC
Since 1959, AESC has set the quality standard for the executive search and leadership advisory profession. AESC Members, ranging in size from large global executive search and leadership advisory firms and networks to regional and boutique firms, represent 16,000+ trusted professionals in 1,200+ offices, spanning 70+ countries. AESC Members are recognized leaders of global executive search and leadership advisory solutions. They leverage their access and expertise to place, find and develop more than 100,000 executives each year in board of directors and C-level positions for the world's leading organizations of all types and sizes. Dedicated to strengthening leadership worldwide, AESC and its members share a deep commitment to the highest quality standards in executive search and leadership consulting—for the benefit of clients and the profession. We Shape. Connect. Educate. Learn more about us at aesc.org. For AESC's career service for executive-level candidates, visit bluesteps.com.