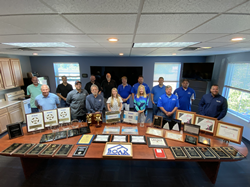 "Carlisle challenges our employees every time we install their products to be the best of the best, and we deliver." - Sam Boak
YOUNGSTOWN, Ohio (PRWEB) June 26, 2020
Boak & Sons, Inc. is a residential and commercial exterior contracting company that specializes in roofing, siding, gutters and insulation. Based in Youngstown, Ohio, the business serves customers from Cleveland to Pittsburgh with anything from small repairs to full replacements and installation and everything in between. One of their top manufacturers, Carlisle Syntec Systems, has once again awarded Boak & Sons with the Carlisle Perfection Award.
Carlisle Syntec is a leading manufacturer of single-ply roofing materials and supplies roofing companies across the country with their products. To be eligible for the Carlisle Perfection Award, contractors must have a seven-year track record of exceptional installation quality as well as outstanding warranty claim performance. They also need to have completed a minimum amount of warranted work and number of jobs per year. This award is given to the top 5% of all applicators in the United States and Canada, and this is the third year in a row that Boak & Sons has qualified as a recipient.
"It's a pleasure to acknowledge and thank contractors who are committed to top-quality workmanship," said Carlisle's Vice President of Marketing, Mike DuCharme. "Perfection Award winners demonstrate their dedication to excellence on every installation, and Boak & Son, Inc. exemplifies this mindset."
Sam Boak, president and founder of Boak & Sons, Inc., started the business back in 1974 while he was still in high school. The company grew quickly and expanded into other departments, and is now one of the leading exterior contractors in the Northeast Ohio and Western Pennsylvania. The Carlisle Perfection award exemplifies their skills in commercial roofing services.
"Boak & Sons puts quality over quantity into each exterior contracting project we execute," said Sam Boak. "Carlisle challenges our employees every time we install their products to be the best of the best, and we deliver. Receiving this award for a third year in a row is something I hope my employees are extremely proud of because it is well deserved."
To view a complete list of requirements for the Carlisle Perfection award, click here. To learn more about Boak & Sons, Inc., visit http://www.boakandsons.com.
About Boak & Sons:
Boak & Sons, Inc. was founded by Sam Boak in 1974 as an insulation contractor. With the high energy costs of the 70's, Boak & Sons expanded early on into the roofing business. They offered economical roof installations through cutting edge technology and equipment, allowing customers to recoup even more in energy savings. Today, Boak & Sons is a residential and commercial contractor for roofing, insulation, sheet metal, siding, and gutters. Based in Youngstown, Ohio, the company serves customers in surrounding areas from Cleveland, Akron, and Canton to Cranberry and Pittsburgh. For more information on Boak & Sons, visit their website at: https://www.boakandsons.com/