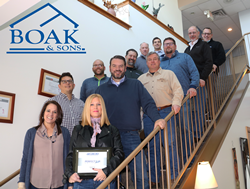 YOUNGSTOWN, Ohio (PRWEB) November 08, 2019
For the second year in a row, Boak & Sons, Inc., a leading commercial roofing contractor in Northeast Ohio, proudly received the Carlisle SynTec Systems' Perfection Award.
The 2019 Carlisle SynTec Systems' Perfection Award recognizes roofing companies whose installation quality ranks in the top 5% of all applicators in the United States and Canada. The qualifications for this award include having the fewest call-backs after installation was completed as well as achieving Perfect 10's on post-installation inspections. The 2019 award was only given to two commercial roofing contractors in the state of Ohio out of an estimated 1,500.
"I'm extremely proud to see Boak & Sons on the list of Carlisle's Perfection awardees again this year," says Sam Boak, president and founder of Boak & Sons, Inc. "We're committed to the highest quality service and this award directly reflects that commitment. It takes a whole team to earn this recognition and each employee should wear it proudly on their sleeve."
The Carlisle SynTec Systems' Perfection Award was established in 2011 to recognize contractors for their dedication to perfect installation of Carlisle products. Carlisle SynTec Systems is a leading producer of low-slope single-ply roofing systems supplying many of the top distributors and applicators in the roofing industry, such as Boak & Sons, Inc.
Boak & Sons, Inc. is a residential and commercial roofing, siding, insulation, gutter and sheet metal contracting company located in Youngstown, Ohio. Established in 1974 by Sam Boak and his father as an insulation company when Sam was only a senior in high school, it has since branched into multiple industries and is now one of the top residential and commercial exterior contractors in Northeast Ohio and Western Pennsylvania. They are located in Youngstown directly between Cleveland and Pittsburgh and serves the surrounding areas to include Canton and Akron, Ohio and Beaver and Cranberry, Pennsylvania.
To learn more about Carlisle SynTec Systems, visit their website. To learn more about the commercial roofing contractor services at Boak & Sons, click here.
About Boak & Sons:
Boak & Sons, Inc. was founded by Sam Boak in 1974 as an insulation contractor. With the high energy costs of the 70's, Boak & Sons expanded early on into the roofing business. They offered economical roof installations through cutting edge technology and equipment, allowing customers to recoup even more in energy savings. Today, Boak & Sons is a residential and commercial contractor for roofing, insulation, sheet metal, siding, and gutters. Based in Youngstown, Ohio, the company serves customers in surrounding areas from Cleveland, Akron, and Canton to Cranberry and Pittsburgh. For more information on Boak & Sons, visit their website at: https://www.boakandsons.com/