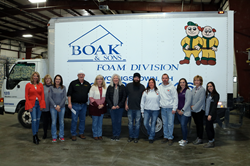 "We wanted to help a smaller organization gain some awareness and do our part to give back. Although we only intended to donate to one group, our hearts told us that both these organizations deserve to be recognized for the incredible impact they have on their communities."
YOUNGSTOWN, Ohio (PRWEB) November 21, 2019
Boak & Sons, Inc. is a residential and commercial roofing, siding, gutter and sheet metal contractor based in Youngstown, Ohio. While exterior contracting is their business, they also like to take the opportunity to give back to the local community. On November 20, they happily presented donations to two deserving local organizations in the area; Warming Warren and The Lord's Blessing Food Pantry.
Boak & Sons posted a Facebook video featuring President and Founder, Sam Boak, asking for their followers to suggest a small, local organization that would benefit from donations. With many recommendations to choose from, they decided to choose the top two instead of just one.
"The goal was to find an organization that we may not have known about already," said Sam. "We wanted to help a smaller organization gain some awareness and do our part to give back. Although we only intended to donate to one group, our hearts told us that both these organizations deserve to be recognized for the incredible impact they have on their communities."
The Lord's Blessing Food Pantry in Washingtonville, Ohio is directed by Charlie Powell. Charlie purchased a building to help store supplies for his painting business, but soon after realized its true purpose. He and his wife decided to turn it into a food pantry to support the community.
"I have always been passionate about feeding and helping those in need," said Powell. "The Lord's Blessing aims to make sure people in need of food, clothing and hygiene items receive them; no questions asked."
The food pantry is planning on handing out 30 complete Thanksgiving dinners to those in need this year, as well as a toy give away for Christmas. Boak & Sons hopes their contribution will play a significant role in making both events a success for the Washingtonville community.
Warming Warren is a small organization in Warren, Ohio ran by Lori Ann Tichenor. Lori Ann hands out hats, gloves, coats and scarves during Ohio's bitter cold season completely free of charge. She started the organization in 2015 when her daughter told her she was upset about how many people she sees walking in the cold without warm clothing. Lori and her daughter started by handing out their own used clothing from Lori's car, but as they saw an increase in need, she ended up buying a trailer to haul the donated items in.
"I myself struggled when my children were growing up," said Tichenor. "I've been there. Here we are four years later, still helping others. My heart is full and this world is filled with great people, especially in our community and the staff at Boak & Sons!"
Boa & Sons employees are always looking for ways to give back to the community. They value taking opportunities to help others and treat everyone, staff and customers, like family. Kathy Cook, administrative assistant at Boak & Sons who has played a huge role in the office's success for over 12 years, says donations like these are at the heart of their business.
"One of my daily tasks is handling the filing in our office, and the thickest one in our drawer is labeled 'Donations'," said Kathy. "People would be amazed at how often Sam Boak gives back and most of it is done anonymously. It's such a good feeling to work for a company that is so community minded."
Chris White, vice president of operations at Boak & Sons, also values how community oriented they are.
"I enjoy opening Facebook and seeing that we have given to people that need it most," said Chris. "Sam has always surprised me with what he does for the community. He also challenges other organizations, including our competitors, to do the same."
Boak & Sons was honored to have Charlie and Lori Ann in their office. They encourage everyone to look further into both of these organizations and take the time to volunteer and donate with them. To learn more about giving to these organizations, visit their Facebook pages. For The Lord's Blessing Food Pantry, visit https://www.facebook.com/thelordsblessings/?hc_location=ufi. For Warming Warren, visit https://www.facebook.com/warming.warren?hc_location=ufi.
For more information about Boak & Sons, Inc., visit our website or call 330-793-5646.