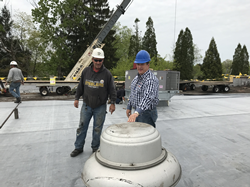 "It's not just about building trust, it's about taking ownership of our work and doing the right thing to make sure our work exceeds our customers' expectations"
YOUNGSTOWN, Ohio (PRWEB) January 31, 2020
Boak & Sons, Inc. is an exterior contracting company in Youngstown, Ohio that specializes in the commercial and residential installation of roofing, siding, gutters, sheet metal and insulation. Being in the heart of the Mahoning Valley, the company has always held a strong position in the community. With a service area ranging from Cleveland to Pittsburgh, Boak & Sons completes thousands of exterior contracting jobs every year, and they heavily emphasize the importance of customer satisfaction. With the start of the new decade, the company is dedicating this year to having '20/20 Vision' to make sure they remind their customers that they are committed to exceeding their expectations.
Sam Boak, president and founder of Boak & Sons, Inc., says customer satisfaction and quality work is their top priority. If clients are unhappy with the company's service, his commitment has always been to rectify the situation in a timely fashion.
"We complete well over 5,000 jobs in a single year," said Boak. "We push our crews to be the best of the best and a huge part of that is going back to a job site after the work is done and making sure that client is completely satisfied. If there are any questions or concerns about a completed job, we address them right away."
Boak & Sons has committed to answering calls and returning to jobsites to answer any questions and make sure customers are fully satisfied. This allows them to build lasting relationships with customers, which they believe is what sets them apart from other contractors. For Boak & Sons, new leads are not the only priority. They also focus on keeping former customers satisfied for years to come.
"It's not just about building trust, it's about taking ownership of our work and doing the right thing to make sure our work exceeds our customers' expectations" says Chris White, vice president of operations at Boak & Sons, Inc. "On the rare occasion that there is a question or concern about a project, we're more than willing to work with our customers till they are happy with the outcome. In our book, the project is not complete until that happens."
In addition to taking care of their customers, Sam Boak is also instilling the message of '20/20 Vision' in his employees. Boak has made it clear to them that no matter the issue, whether it be personal or job-related, they can come straight to him and he will support them.
"My employees are my family," said Boak. "If they're not being taken care of, I'm not doing my job as their employer. Having '20/20 Vision' this year means that our company will work together to make sure every concern both internally and at a job site is handled appropriately. That's how you get quality customer satisfaction, but also employee satisfaction."
Boak & Sons, Inc. encourages their previous customers to contact them if they have any questions or concerns about the work the company has done for them. Customers should visit their website to fill out a contact form at http://www.boakandsons/contact or call their office directly at 330-793-5646.
About Boak & Sons:
Boak & Sons, Inc. was founded by Sam Boak in 1974 as an insulation contractor. With the high energy costs of the 70's, Boak & Sons expanded early on into the roofing business. They offered economical roof installations through cutting edge technology and equipment, allowing customers to recoup even more in energy savings. Today, Boak & Sons is a residential and commercial contractor for roofing, insulation, sheet metal, siding, and gutters. Based in Youngstown, Ohio, the company serves customers in surrounding areas from Cleveland, Akron, and Canton to Cranberry and Pittsburgh. For more information on Boak & Sons, visit their website at: https://www.boakandsons.com/