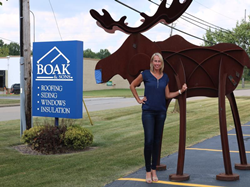 "I was looking for a team to join; a family," said Robin. "From everything I've seen and learned from Boak & Sons, that's what it's all about – teamwork. Everyone cares about the service we provide to customers; a group of people all working toward the same goal."
YOUNGSTOWN, Ohio (PRWEB) September 10, 2020
Boak & Sons, Inc. is a residential and commercial exterior contracting company in Youngstown, Ohio that specializes in roofing, siding, insulation, gutters and sheet metal. The company has over 165 employees working in the field and in the office, and has continued to grow despite the COVID-19 pandemic thanks to their loyal customers and partners. The office staff especially has added several new employees, the most recent being Robin Bishop.
Robin was hired at Boak & Sons in Marketing and Business Development in the Commercial Roofing/Architectural Sheet Metal Division. With a bachelor's degree from Youngstown State University, she has over 10 years of experience in commercial roofing sales management. Robin was looking to further her career path, and decided Boak & Sons was the perfect place to grow her portfolio where her customers would be given the highest level of quality and service.
"I was looking for a team to join; a family," said Robin. "From everything I've seen and learned from Boak & Sons, that's what it's all about – teamwork. Everyone cares about the service we provide to customers; a group of people all working toward the same goal."
Robin has only been working at Boak & Sons for just over a week and has already started building her relationships with new customers and using her roofing experience to represent Boak & Sons in the best way possible. She has a reputation in the business for high quality service and relationship management, which is why Sam Boak, president and founder of Boak & Sons, agreed she would make a great addition to the team when she reached out about employment opportunities.
"Robin was already well-known in the commercial roofing industry for her incredible customer service," said Sam Boak. "When she reached out about looking for an opportunity with Boak & Sons, I knew it would be a mutually beneficial decision. We're excited to see what her experience and skills can do, and we're confident that this addition is going to further develop our company's reputation for quality service in the commercial roofing and sheet metal department."
To learn more about the commercial roofing and sheet metal, or any other services provided by Boak & Sons, visit their website at http://www.boakandsons.com.