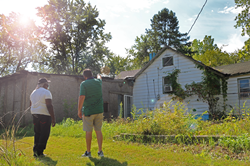 "This doesn't cover half of what we owe him and his fellow brothers and sisters in arms, but it's my belief that no veteran should ever worry about having a roof over their family's heads." - Sam Boak
YOUNGSTOWN, Ohio (PRWEB) August 28, 2020
Boak & Sons, Inc. is a residential and commercial contracting company in Youngstown, Ohio that specializes in roofing, insulation, siding and gutters. The company has a strong reputation in the area for giving back to the community. With many past and present members of the armed forces employed at Boak & Sons, the military holds a strong place in the heart of the company. This summer, the company announced they will be starting a program called "Got You Covered" which will donate a new roof to a local veteran in need.
As the first year dedicated to the Got You Covered program, Boak & Sons is taking extensive measures to make sure the project is done right. Boak & Sons partnered with the Mahoning Valley Veteran's Service Commission (MVVSC) in Youngstown to find a recipient of the program. MVVSC assists veterans, their spouses, widows, dependents, etc. with their benefits from the Department of Veterans Affairs and the State of Ohio. They also provide transportation, administer a temporary relief program for financial aid among many other services to the veterans of the Mahoning County region.
Susan Krawchyk, department head of the MVVSC, shared the request with her commissioners to help Boak & Sons find the right candidate. MVVSCC requires an application from veterans to qualify for this program with specific requirements such as proof of service, service status and era of service. Through that vetting process, they found Vietnam Veteran Johnny Rivers.
75–year-old Johnny Rivers enlisted in the army in 1963 as an enlisted soldier in the A company, 1st Battalion 503rd Infantry. He now lives in Youngstown with his 13-year-old twin daughters. Rivers came to the MVVSC looking for help finding someone to fix his roof after Boak & Sons had already asked the commission to help them find a candidate for their Got You Covered program. Rivers' application was approved and the company is now putting the project together to replace the roof of his home.
"This year has been hard for our entire community," said Sam Boak, president and founder of Boak & Sons, Inc. "Boak & Sons has always been about giving back, but it just seems to mean much more this year. Got You Covered was a dream we had a few months ago, but it wasn't hard to just reach out and make the right connections to turn it into a reality. I hope other businesses like us take the time to open their eyes, take a look around and start addressing the help that is so direly needed right in our own back yard."
Other companies have already stepped up to help Boak & Sons with this project. Owens Corning, one of the top global companies in roofing material supply, is donating 100% of the materials needed for this project. Boak & Sons is even partnering with a local landscaping company, My Second Nature, to spruce up the landscaping around Rivers' home.
"This is a man who dedicated a portion of his life to our nation's freedom," said Sam Boak. "This doesn't cover half of what we owe him and his fellow brothers and sisters in arms, but it's my belief that no veteran should ever worry about having a roof over their family's heads."
To learn more about the Got You Covered program and to stay updated on the status of the project, visit the Boak & Sons Facebook page or their website at http://www.boakandsons.com. If you know of or are a veteran in need of a roof, contact the Mahoning Valley Veteran's Service Commission at https://www.mahoningcountyoh.gov/568/Veterans-Service-Commission. You can also learn more about Owens Corning and My Second Nature by visiting https://www.owenscorning.com/ or https://www.mysecondnature.com/. Businesses who are looking to get involved in a project like this should also contact the Mahoning Valley Veterans Service Commission and call to those who have served.
About Boak & Sons:
Boak & Sons, Inc. was founded by Sam Boak in 1974 as an insulation contractor. With the high energy costs of the 70's, Boak & Sons expanded early on into the roofing business. They offered economical roof installations through cutting edge technology and equipment, allowing customers to recoup even more in energy savings. Today, Boak & Sons is a residential and commercial contractor for roofing, insulation, sheet metal, siding, and gutters. Based in Youngstown, Ohio, the company serves customers in surrounding areas from Cleveland, Akron, and Canton to Cranberry and Pittsburgh. For more information on Boak & Sons, visit their website at: https://www.boakandsons.com/