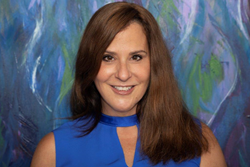 "As only one of 380 Professional EOS Implementers® worldwide, Jackie will bring her expertise in implementing the Entrepreneurial Operating System®, EOS®, to transform our clients' companies and help leaders get more from their businesses and personal lives," said Virginia Knudsen
LAS VEGAS (PRWEB) October 20, 2020
Virginia Knudsen, Founder and CEO of BOAR, a business leadership experience, executive program, and global community, today officially welcomed new strategic partner Jackie Kibler to BOAR.
"I'm so pleased to announce Jackie Kibler has joined Boar as a strategic partner," said Knudsen. "As only one of 380 Professional EOS Implementers® worldwide, Jackie will bring her expertise in implementing the Entrepreneurial Operating System®, EOS®, to transform our clients' companies and help leaders get more from their businesses and personal lives."
"I'm excited to work with BOAR and help Las Vegas CEOs, business owners, and entrepreneurs achieve healthier, more profitable, and sustainable organizations. I believe many entrepreneurs want to grow and succeed, but they don't always know where to begin or how to achieve their goals. EOS is the solution," said Kibler.
Starting in Fall 2020, BOAR will offer EOS implementation to help Las Vegas-based companies get better at unifying their vision, gaining traction, and achieving corporate health. EOS is a simple framework for defining what's important, who owns it, and exactly what success looks like. Kibler will work directly with BOAR clients to master this simple way of operating to systematically and permanently improve their companies.
"We are excited about the opportunity to not only offer the EOS implementation to our clients, but also have Jackie work with them to drive meaningful change in their organizations. Making sure each team member is in the right seat having full accountability is critical to our success at BOAR, and these tools ensured we got there," said Knudsen.
Kibler has dedicated her career to mastering business leadership. Over a career of more than 30 years working at recognized global companies like Dun & Bradstreet, Wells Fargo, and Corporate Executive Board, she has earned her reputation as the "go-to person" by turning around underperforming companies using a strategic mix of goal setting, process development, and personal accountability.
In 2015, Kibler joined Peer Advising Company as the Executive of the Pacific Region, where she coached 60 Entrepreneurial CEOs to support and grow their respective independent practices. During this time, she was introduced to EOS and quickly realized how the EOS toolset combined with discipline and accountability drove entrepreneurial companies' transformation.
Kibler's passion is helping entrepreneurs and CEOs get more of what they want from their businesses. In 2019, she launched JW Kibler Group, a business and executive coaching business, and became a Professional EOS Implementer.
"Accelerating my client's ability to get more of what they want from their business and personal lives is my goal, and I know that as I work with CEOs incorporating the EOS Model® is the keystone to greater success," said Kibler.
Kibler was recently named Chair of Professional Development of NAWBO LA. She also serves as a speaker and is a certified member of WBENC.
For more information about Boar, please visit http://www.boarcommunity.com; email info@BoarCommunity.com; or call 855-922-BOAR.
About Virginia Knudsen: Virginia Knudsen is a passionate and energetic leader dedicated to helping executives and business owners seize opportunities and realize their personal potential. She relies on her practiced skill set, having fulfilled roles such as CEO, EVP, COO, Executive Coach and Entrepreneur. She is one of an exclusive group of highly respected, trusted advisors who are experts in business leadership coaching. Virginia leads local CEO & Executive Mastermind groups and provides one-to-one coaching to top chief executives and business owners. She helps leaders that are looking to more effectively manage the growth of their businesses, improve their relationships and achieve significantly better results, all while reducing work hours.
About BOAR:
The BOAR is both inspiration and a path for action. The animal is fearless and headstrong, symbolizing truth, courage and confrontation. BOAR stands for the intrinsic values every leader should possess: B for Born of Integrity; O for Open Hearts; A for Abundance and R for Results. In the wild, the boar nature is to uncover what lies beneath the surface. They demand attention. They respect their senses. These qualities influence our BOAR values. For more information about BOAR please visit: http://www.boarcommunity.com.