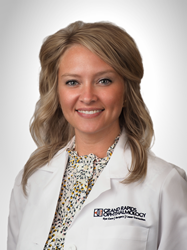 "She will be an asset in helping Grand Rapids Ophthalmology continue to provide the highest level of eye care to our patients."
GRAND RAPIDS, Mich. (PRWEB) August 26, 2019
Grand Rapids Ophthalmology (GRO) is pleased to announce the addition of Emily Tomaselli (formerly Rollenhagen) DO, to its growing team of eye care professionals. She is the most recent to join GRO's continued commitment and Purpose to Lead the Way, Improve Sight, and Change Lives.
Dr. Tomaselli is a board-certified ophthalmologist. She performs medical, diabetic, and routine eye exams, as well as cataract and laser surgeries. Dr. Tomaselli graduated from Michigan State University College of Osteopathic Medicine. She completed her ophthalmology residency from both Michigan State University Statewide Campus System St. John Providence Ascension Health System, and Albany Medical Center.
"We feel very fortunate to have Dr. Tomaselli join our team with her in-depth training and clinical experience," said Zach Smith, GRO's Executive Director. "She will be an asset in helping Grand Rapids Ophthalmology continue to provide the highest level of eye care to our patients." Dr. Tomaselli is board-certified by the American Board of Ophthalmology, the American Osteopathic Association, the American Society of Cataract and Refractive Surgery, as well as the Michigan Society of Eye Physicians and Surgeons.