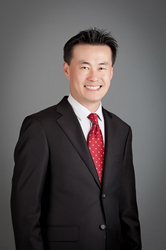 When placed by a trained implant specialist like Dr. Kim, All-on-4 dental implants have an impressive 98.5% success rate after four years.
Orange, CA (PRWEB) November 13, 2019
Board-certified periodontist, Dr. Jin Y. Kim, offers reliable full arch dental implants for Orange, CA patients with extensive tooth loss who want to avoid issues common among denture-wearers. Offering life-changing results, Dr. Kim often recommends the All-on-4® protocol due to its high success rate and its ability to accommodate patients with existing bone loss.
All-on-4 full arch dental implants use four titanium posts to anchor a custom prosthetic to the jawbone. Two posts are strategically placed at an angle and two are positioned vertically. Dr. Kim relies upon modern imaging technology and advanced implant software to precisely plan and place each implant. After placement of the dental implants, a temporary restoration can be immediately attached. All-on-4 therefore offers instant aesthetic and function for patients the same day they receive their dental implants.
In addition to significantly reducing the customary wait time between placement of dental implants and attachment of an implant-stabilized restoration, All-on-4 dental implants offer several key benefits. Namely, they are suitable for patients who are frustrated with their traditional, ill-fitting or loose dentures. Many dentures that are not anchored to dental implants habitually slip, slide and fall out. Plus, traditional dentures do not stimulate the jawbone, so the bone begins to lose density, changing the gumline and contributing to patient discomfort and an aged appearance.
When placed by a trained implant specialist like Dr. Kim, All-on-4 dental implants have an impressive 98.5% success rate after four years. Plus, many patients report that their new teeth look more natural than other types of suction-based and gel-secured dentures.
Adults who wish to explore the possibility of replacing their missing teeth permanently with All-on-4 dental implants are invited to call one of Dr. Kim's two locations to schedule an appointment or visit http://www.drjinkim.com for more information.
About the Periodontist
Dr. Jin Y. Kim is a periodontist dedicated to providing personalized dental care in Diamond Bar and Garden Grove, CA. Dr. Kim attended the University of Sydney Faculty of Dentistry before furthering his education with an advanced degree in pathology from the Medical School of the same University. Dr. Kim completed a periodontics and implant surgery residency at UCLA School of Dentistry and is board-certified by the American Board of Periodontology and the American Board of Oral Implantology/Implant Dentistry. He is a past president of the Western Society of Periodontology and was also inducted to be a Fellow of the prestigious American College of Dentists and earned Fellowships in the International Congress of Oral Implantologists and the American Academy of Implant Dentistry. Dr. Kim lectures and holds faculty positions at a number of universities including UCLA School of Dentistry and abroad. He has spoken at no less than 36 different countries across the globe as well as national and international academic and clinical associations and universities including the International Association of Dental Research, American Academy of Periodontology and Academy of Osseointegration. To learn more about Dr. Jin Kim and the services he offers, visit his website at http://www.drjinkim.com or call 909-860-9222 for the Diamond Bar location or 714-898-8757 for the West Garden Grove location to schedule an appointment.