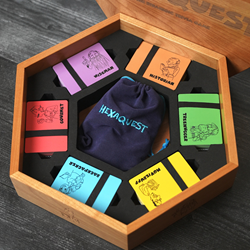 The new king of trivia
LONGMONT, Colo. (PRWEB) November 10, 2021
Board game company Tumbling Heads announces the launch of the Kickstarter campaign for Hexaquest, a new strategic trivia game with endless options for customization. The crowdfunding goal for Hexaquest is set at $12,500.
Martin Soederhamn, Tumbling Heads founder and commercial filmmaker, developed the original idea for Hexaquest 15 years ago while playing a popular trivia game in Thailand, where he was working as a scuba diving instructor.
"The biggest frustration I had with most trivia games was the lack of control over the gaming experience. With Hexaquest, we've eliminated the cumbersome dice and board required for most trivia games and given players the ability to reduce the randomness of difficulty," said Soederhamn. "Players can select from six exciting categories, customize the level of difficulty as they go and enjoy a long game or a quick round. Moreover, additional players can join the fun at any time, making it the perfect game for a variety of occasions."
Through its Kickstarter campaign, in addition to the various pledge levels available, Tumbling Heads also offers access to its Limited Founders Edition. This exclusive, high-quality wooden box comes with a neoprene insert and includes six diverse categories, with room for six additional expansion packs. Supporters who hope to secure the Limited Founders Edition will have to act quickly as only 50 copies will ever be produced, with just 45 of those available for sale.
Hexaquest includes 65 high quality hexagons which create the board, though players can opt to grab just a handful for a quick round of play. It also comes with 300 cards, featuring 1500 questions. The base game of Hexaquest is targeted at players aged 14 and up, and standalone expansion packs are available for purchase. There is a wide range of categories available for players of all ages. For younger players, the "Prodigy" expansion pack features questions written by an elementary school teacher and allows audiences aged 7-13 to join in on the fun. At the other end of the spectrum, the "Detective" offers players aged 21 and up a deep dive into the gory world of true crime. All questions provided by TSFU the Podcast. These are just two of the six expansion packs that will be available during the Kickstarter campaign.
To sign up for the Kickstarter visit https://www.kickstarter.com/projects/tumbling-heads/hexaquest
To follow Hexaquest on Instagram visit https://www.instagram.com/hexaquest/