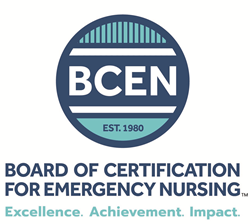 OAK BROOK, Ill. (PRWEB) December 30, 2019
The Board of Certification for Emergency Nursing (BCEN), the benchmark for specialty certification across the emergency nursing spectrum, today announced its 2020-2021 board of directors and recognized long-time outgoing board member Mary Whelan for her decade of service.
BCEN's board members, who will begin their volunteer, two-year terms on January 1, 2020, are:
Chairperson: Kyle Madigan, MSN, RN, CEN, CFRN, CTRN, CCRN, CMTE, director, Dartmouth-Hitchcock Advanced Response Team at Dartmouth-Hitchcock Medical Center in Lebanon, New Hampshire
This September, Madigan was appointed by U.S. Department of Transportation (DOT) Secretary Elaine Chao to DOT's Air Ambulance and Patient Billing (AAPB) Advisory Committee as the representative of nurses. The 13-member committee advises the Secretary about issues relating to air ambulance services and patient billing.
Chairperson-elect: Rebecca Steinmann, MS, APN, RN-BC, CPEN, CEN, TCRN, CCRN, CCNS, FAEN, nursing professional development practitioner in the Emergency Care Center at Ann & Robert H. Lurie Children's Hospital of Chicago
Secretary/Treasurer: Steven P. Talbot, MSN, RN, CEN, TCRN, trauma program manager and operations administrator manager at Memorial Hermann Memorial City Medical Center in Houston, Texas
Immediate Past Chairperson: Lorie Ledford, MSN, RN, CEN, CFRN, CPEN, CTRN, TCRN, CCRN, chief flight nurse with Alia MedFlight in Phoenix, Arizona
Members-at-large:

Sean M. Elwell, MSN, RN, NE-BC, TCRN, EMT, director, Trauma, Transport and Emergency Services, Nemours/Alfred I. duPont Hospital for Children, Wilmington, Delaware
Julie Ruddy, BS, RN, CEN, CPEN, TCRN, staff RN, Emergency Trauma Center, Abington Hospital-Jefferson Health, Abington, Pennsylvania
Andrew Veitch, BSN, RN, CCRN, CFRN, CTRN, operating room nurse, Stanford Health Care, and Legal Nurse Consultant, Palo Alto, California
Allen Wolfe, MSN, RN, CFRN, CTRN, CCRN, CMTE, director of clinical education/critical care clinical specialist, Air Methods Corporation, Greenwood Village, Colorado
Public Representative: Robert Corrao, CEO, LAC Group, Los Angeles, California
BCEN Executive Director Janie Schumaker, MBA, BSN, RN, CEN, CENP, CPHQ, FABC, who also serves on the board, recognized outgoing board member Mary Whelan, MSN, RN, CEN: "Mary is a steadfast advocate for nurses and for greater recognition of those who support nursing and specialty certification. During her decade of exceptional service on BCEN's board, she has insisted on high quality, robust products from BCEN and her deep belief in a good customer service experience is evidenced in BCEN's focus on continuous customer improvement."
Whelan, who is director of emergency services of Doylestown Hospital in Doylestown, Pennsylvania, first earned her Certified Emergency Nurse (CEN) in 1992. Before and during her tenure on BCEN's board of directors, Mary has been a strong contributor to the CEN exam as an item writer and as a member and chairperson of the CEN exam construction and review committee.
More details and photos of BCEN's board of directors are available at https://bcen.org/board-of-directors/
About BCEN
Founded in 1980, the independent, nonprofit Board of Certification for Emergency Nursing (BCEN®) develops robust certification exams fostering empowered nurses across the emergency spectrum who contribute noticeably to patient care, safety and outcomes. Over 54,000 BCEN board certifications are currently held by registered nurses (RNs) who specialize in emergency, flight, critical care ground transport, pediatric emergency and trauma nursing. BCEN offers the Certified Emergency Nurse (CEN®), Certified Flight Registered Nurse (CFRN®), Certified Pediatric Emergency Nurse (CPEN®), Certified Transport Registered Nurse (CTRN®) and Trauma Certified Registered Nurse (TCRN®) certifications. The CEN, CFRN, CPEN, and TCRN certification programs are accredited by the Accreditation Board for Specialty Nursing Certification (ABSNC), the only accrediting body specifically for nursing certifications. Learn more at bcen.org. Follow BCEN on Facebook, LinkedIn and Instagram.