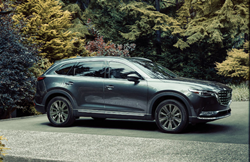 CARLSBAD, Calif. (PRWEB) September 26, 2020
Noted as one of the major crossover brands in the automotive industry, Mazda provides a lineup of powerful and comfortable models. Customers looking to lease or purchase the latest 2021 Mazda crossovers in the Carlsbad area can now find various models available at Bob Baker Mazda. Currently, the dealership has various quantities of 2021 Mazda CX-3, CX-30 and CX-9 models.
Two 2021 Mazda CX-3 models can be purchased at Bob Baker Mazda. Possessing the Skyactiv®-G 2.0-liter engine, each model receives 148 horsepower and 146 ft-lbs of torque. One new feature with the model includes an upgrade to the Advanced City Brake Support feature, which now has Night Pedestrian Detection. Other than the safety upgrade, the 2021 Mazda CX-3 is largely a carryover from the previous year.
For the newest model, Bob Baker Mazda has 2021 Mazda CX-30 models available at their location. Largely a carryover from the previous year, the crossover adds standard Apple CarPlay™ and Android Auto™. The model comes in four total trim levels and can all be found at the dealership.
As the largest model in the 2021 Mazda lineup, the 2021 Mazda CX-9 can also be found at Bob Baker Mazda. Each model is armed with the Skyactiv®-G 2.5-liter turbocharged engine, can be found in several exterior color options and can seat up to seven passengers. The dealership also has the Carbon Edition trim level, which is a new special edition offered by Mazda for the 2021 model year.
Those interested in purchasing or leasing a 2021 Mazda crossover are welcomed to connect with Bob Baker Mazda. The dealership is located at 5365 Car County Drive in Carlsbad. Otherwise, customers can talk to an associate via phone at 760-431-3051 or view the current inventory at https://www.bobbakermazda.com/.