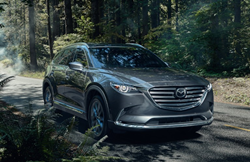 CARLSBAD, Calif. (PRWEB) April 21, 2020
Bob Baker Mazda is providing various Special Incentives for customers in the Carlsbad and San Diego areas during the month of April. These incentives include a Loyalty Rewards program, a Healthcare Worker Appreciation program, and a 90-Day Deferred Payment Program. See the dealer for additional details on each special incentive.
The first special incentive is the Loyalty Rewards program, which provides current Mazda owners with $1,500 towards a new 2018, 2019 or 2020 Mazda model. To be eligible, customers must present the dealer with a current registration title, sales contract or Mazda Financial Services Agreement and valid driver's license. The offer expires on April 30, 2020.
The next special incentive comes in the Healthcare Worker Appreciation Program. Those who provide both a driver's license and proof of occupation are eligible for $500 bonus cash towards a new 2019 or 2020 Mazda model. It can be combined with select public and private offers such as the Loyalty Rewards Program or leases. A complete list of eligible facilities can be found on their site. The offer expires on June 1, 2020.
Another incentive is the 90-Day Deferred Payment Program, which allows customers with approved credit to defer their first payment on any new Mazda vehicle taken from the dealer's inventory by April 30, 2020. Customers can utilize it for up to 90 days from the contract date on Subvented or Standard contracts with a maximum term of 72 months. Restrictions may apply.
Any customers interested in or have questions about the incentive specials at Bob Baker Mazda can contact the dealer for additional information. Currently, the dealer can be contacted by phone at (760) 431-3051 or online at https://www.bobbakermazda.com/.