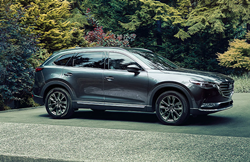 CARLSBAD, Calif. (PRWEB) May 21, 2020
As a Mazda dealership in San Diego County, Bob Baker Mazda provides customers with the latest Mazda models available. This May, the dealership has l ease offers on select 2020 Mazda models. Seven total models are available for a lease offer, including the 2020 Mazda3 Hatchback and Sedan, the Mazda6, the Mazda CX-3 and CX-30, and the Mazda CX-5 and CX-9. Each offer is for a 36-month lease and does not include tax in any figures. Select offers are all on front-wheel drive models and residency restrictions may also apply.
For those interested, Bob Baker Mazda has lease offers on both front-wheel drive models of the 2020 Mazda3 Sedan and Hatchback, as well as the 2020 Mazda6 Sport. With the 2020 Mazda3 Sedan, the dealership is offering a price of $149 per month with a down payment of $3,126. With the Mazda3 Hatchback, customers must pay $169 per month with $3,358 money down. In a similar deal, a 2020 Mazda6 Sport trim is available at a $169 per month lease price with a $3,903 down payment.
The dealership also has offers on both subcompact crossovers in its 2020 lineup. This includes the 2020 Mazda CX-3 Sport and CX-30. The 2020 Mazda CX-3 Sport is available for a $169 per month lease price with a down payment of $3,674. 2020 Mazda CX-30 models are also available at $169 per month but have a $3,816 down payment.
Lastly, larger Mazda crossover models are also available within the lease specials this month. For the 2020 Mazda CX-5 Sport, customers can pay a $4,304 down payment to receive a monthly payment of $189. Meanwhile, the 2020 Mazda CX-9 Sport is available for a $219 monthly price with $4,483 customer cash down.
Those interested in any of the lease specials available at Bob Baker Mazda are encouraged to contact the dealership directly. They can be located at 5365 Car County Drive in Carlsbad, CA. The dealership can also be contacted by phone at (760) 431-3051 or online at https://www.bobbakermazda.com/.