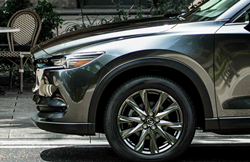 CARLSBAD, Calif. (PRWEB) January 28, 2020
Coming into a new decade, the 2019 Mazda CX-5 needs to get sold off to make room on dealership lots for the 2020 models. At the Bob Baker Mazda dealership in Carlsbad, California, the 2019 Mazda CX-5 is the one to buy. Bob Baker Mazda is helping move their stock of CX-5 models by putting limited-time dealer discounts on them or offering customer cash.
The Mazda CX-5 is already one of the most popular small SUVs out there. Having already found success in one of the most competitive classes in the automotive industry, the 2019 model year follows up a 2017 redesign. Starting in 2019, the CX-5 comes equipped with Apple CarPlay® and Android Auto™ smartphone connectivity and a more widely available turbocharged engine. The 2019 Mazda CX-5 also has a diesel engine option to bring a rare level of variety among the small SUV crowd.
A sleek, handsome interior has already made the CX-5 a favorite among car buyers. To add to it, tight handling and quiet highway driving makes the small SUV a fun, energetic vehicle for more than just carrying people and small cargo. The vehicle strikes a balance between young sporty power and a matured attitude that attracts a wide range of drivers.
Bob Baker Mazda currently has five models in stock. Among these five, three Signature Diesel models make up the majority. The Signature model includes the i-ACTIV® AWD all-wheel-drive system, making it the most premium trim level of the Mazda CX-5 model. Diesel power means increased torque and fuel efficiency. Just one of the 2019 Mazda CX-5 models on the lot belongs to the Touring trim level, making it the most affordable of the 2019 models at Bob Baker Mazda.
Shoppers looking for a new small SUV with a premium feel without paying for a luxury vehicle manufacturer price. Car buyers looking to learn more about the 2019 Mazda CX-5 should contact the Bob Baker Mazda dealership at 760-431-3050 or in-person at 5365 Car Country Dr. Carlsbad, California 92008.