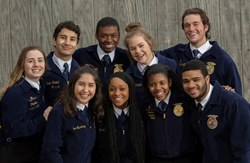 NEW ALBANY, Ohio (PRWEB) January 12, 2022
With its continued support of and dedication to the next generation of America's farming community, Bob Evans Restaurants is paying homage to its founder and former farmer, Bob Evans, through its partnership with the National FFA Organization. As an ongoing commitment and investment, Bob Evans Restaurants will be awarding supervised agriculture experience (SAE) project grants, alongside the FFA, to twelve high school student FFA members located across the country. The second year of this grant program also solidifies the brand's commitment to the spirit of innovation that brings the freshest foods to its restaurants and family tables across America.
The SAE projects are a requirement of all FFA members. Each recipient will receive $1,000 to help them achieve the goals they outlined for their SAE project this year. The funds from Bob Evans Restaurants will assist the high school students with entrepreneurial agriculture projects, such as creating new greenhouses or expanding a garden to help provide fresh produce to feed their local community and assist local businesses. These experiential projects will help students learn more about agriculture, as well as how to run a business firsthand.
"We're honored to be able to support another group of students and aspiring farmers this year and we look forward to seeing their agricultural projects come to life," said Bob Holtcamp, President and CMO for Bob Evans Restaurants. "At Bob Evans, 'Down on the Farm®,' is more than a slogan, it's a way of life for us. By supporting agricultural education and inspiring the next generation of farmers, we are not only honoring our roots but ensuring the future of our nation's supply of farm-fresh food. We can't wait to see what each of the twelve students will accomplish in 2022—and throughout their future careers."
The 2022 recipients were selected from more than 1,086 applications nationwide. Individuals who received grants and how they plan to use the funds for their anticipated projects include:

Landen Berger plans to purchase materials to build a new greenhouse and cultivate fresh vegetables and flowers to sell to consumers. Any products not sold will be donated to students for educational purposes.
Emma Brown plans to purchase the necessary seeds and materials to begin growing onions, radishes, beets, zucchini, cucumbers, as well as additional vegetables in her 40x40 feet plot of land. The vegetables will be canned or frozen and then used in the future to make baked goods.
Rylee Brown is looking to expand the growing and selling of various plants by purchasing a natural gas heating system that will allow her to start growing plants earlier and extend the growing season. She will also use a rainwater collection system to practice sustainability.
Chloe Campbell will expand the production of honey and comb goods by purchasing additional beehives for a total of 20 beehives. This expansion will allow for more honey-related products to be sold via social media and at local stores.
Ella Crim will expand to a 1,600 sq. ft. garden to grow more pumpkins and zucchini and will use the grant funds to purchase food processing equipment to increase efficiency. This will help with the production and selling of baked goods.
Tyler Fenner is looking to expand his grain production entrepreneurship project by renting an additional 17 acres to begin growing, harvesting, and selling corn, in addition to growing soybeans on 13 acres.
Jada Heald plans to put the grant funds towards a new greenhouse to grow and sell vegetables, as well as flowers. Products not sold to the public will be donated to nearby schools for educational purposes.
Alex Kellersmith will expand his current SAE project by purchasing a hydroponic growing system to grow salad greens, microgreens, vegetables, flowers, and root lavender cuttings. These products will be sold to customers and local restaurants.
Coby Lee plans to use the grant funds to build new garden beds for growing various vegetables. Each bed will be made of wood, cinder blocks and hoop house frames to protect the plants from wind, rain, and cooler weather, and will be filled with soil and fertilizer.
Mattie Maiden will purchase a new deep-water culture system, expanding production from one bucket to a much larger hydroponic drip system, to grow grape tomatoes. This expansion will help with plans to obtain a Tennessee FFA State Degree.
Allie Moore plans to expand the production of vegetables, fruits and herbs by using the grant funds towards adding a hydroponic tower. The produce harvested will be used to make and sell treats for cats, dogs, cows and horses.
Kayla Wilmes plans to use the grant funds for the materials and supplies needed to create a 45 by 45ft. plot, where assorted fruits and flowers will be grown. These goods will be sold at local farmer's markets.
For more information on Bob Evan's Restaurant's commitment to FFA, including information about how to get involved in FFA Week, taking place February 19-26, 2022 and Give FFA Day on February 24, please visit BobEvans.com/FFA. For more information about FFA, please visit FFA.org.
###
About Bob Evans Restaurants, LLC
Bob Evans Restaurants is chain of family-style restaurants founded and headquartered in Columbus, Ohio, which owns and operates nearly 450 locations in 18 states, primarily in the Midwest, mid-Atlantic and Southeast regions. Guests have been enjoying signature farm-fresh meals like the Farmer's Choice Breakfast, made with fresh-cracked eggs, and the slow-roasted, hand-carved turkey dinner among other classics for over 70 years. True to his humble farmer roots, founder Bob Evans believed in treating strangers like friends and friends like family, and this hospitality is still on display at every Bob Evans Restaurant location. As a private company, Bob Evans Restaurants is focused on bringing America's Farm Fresh to its guests at every meal, each and every day. For more information and restaurant locations, visit BobEvans.com, or follow us on Facebook, Twitter and Instagram.
About National FFA Organization
The National FFA Organization is a school-based national youth leadership development organization of more than 735,000 student members as part of 8,817 local FFA chapters in all 50 states, Puerto Rico and the U.S. Virgin Islands. The FFA mission is to make a positive difference in the lives of students by developing their potential for premier leadership, personal growth and career success through agricultural education. For more, visit the National FFA Organization online at FFA.org and on Facebook and Twitter.
About National FFA Foundation
The National FFA Foundation builds partnerships with industry, education, government, other foundations, and individuals to secure financial resources that recognize FFA member achievements, develop student leaders, and support the future of agricultural education. Governed by a 19-member board of trustees composed of educators, business leaders, individual donors and FFA Alumni, the foundation is a separately registered nonprofit organization. About 82 percent of every dollar received by the foundation supports FFA members and agricultural education opportunities. For more, visit FFA.org/Give.
Media Contact:
BobEvans@fahlgren.com