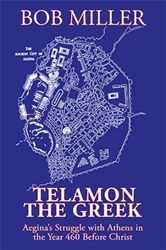 WINTER SPRINGS, Fla. (PRWEB) November 06, 2019
Historical fiction author Bob Miller's new book "TELAMON THE GREEK: Aegina's Struggle with Athens in the Year 460 Before Christ" (published by Xlibris) is set to be in bookstores and online this year. The book deals with an ancient world power of two centuries whose rule ended when the other nation lusted for its power and influence.
The first part of the trilogy starts in 460 B.C. when Athens was eager to defeat Aegina in order to achieve its "Golden Age." Telamon, a Greek Hoplite soldier from Aegina, was captured by the Persians in nearby Cyprus. As a slave, he was forced to assist them in their struggle against the Scythians and revolt in Egypt. Telamon was successful. To express their gratitude to the hero, the Persian king returned him to his hometown where he was set to marry Souria. With his experience in the war field, he is eager to take down Periclean Athens.
According to Miller, the 2,400-year-old storyline mirrors the current political and military struggle happening in the world today specifically the significant clashes in Middle East and conflict between Greece and Turkey. "It demonstrates the thin veneer of civilization which has existed since the dawn of history and is still with us today in the 21st century, especially in the eastern Mediterranean area of the world," Miller explains. To know more about the book, visit https://www.amazon.ae/Telamon-Greek-Aeginas-Struggle-Athens/dp/1796058173.
"TELAMON THE GREEK: Aegina's Struggle with Athens in the Year 460 Before Christ"
By Bob Miller
Hardcover | 6x9 in | 540 pages | ISBN 9781796058154
Softcover | 6x9 in | 540 pages | ISBN 9781796058178
E-Book | 540 pages | ISBN 9781796058192
Available at Amazon and Barnes & Noble
About the Author
For 40 years, Bob Miller resided in and around the Middle East area. During his extended vacations on the Greek Island of Aegina from 1978 to 1991, he learned of the serious historical inaccuracies concerning the island's military defeat by Athens in the fourth century before Christ. Herodotus, considered one of the most accurate ancient historians only briefly refers to Aegina's defeat as the Kerkophalia War. This story of Telamon The Greek sheds new light on serious omissions in Herodotus's Aegina commentary.