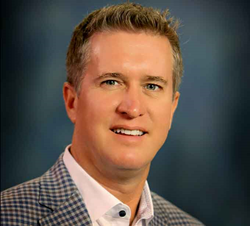 I'm excited to join the HealthRev Partners Board of Directors. I've been watching them for the last year and have admired the great work they're doing.
OZARK, Mo. (PRWEB) February 02, 2021
HealthRev Partners announced today that it has elected Bobby Robertson to its board of directors. Robertson is President and Founder of LifeCare Collective, an organization that empowers home health and hospice agencies to drive growth and streamline operations through centralized support and collective buying power.
"We're pleased to name a nationally recognized home health and hospice business leader to our board of directors," said Michael J. Greenlee, HealthRev Partners' Founder and CEO. "Bobby brings a wealth of knowledge and exceptional leadership experience to our company."
Immediately prior to founding LifeCare Collective, Robertson was CEO of Omnigo Software, a leading provider of public safety, incident, and security management solutions for law enforcement, education, healthcare, gaming, hospitality, and other vertical markets. Prior to Omnigo Software, he served as President and CEO of HEALTHCAREfirst, a leading home care technology, analytics, and services company, from 1996 to 2016.
Robertson previously served on the Board of Directors for several organizations, including Continuity Health Solutions, MedTranDirect, The Coordinating Board for Higher Education – Missouri, and served as Chairman of the Board for HEALTHCAREfirst.
"I'm excited to join the HealthRev Partners Board of Directors. I've been watching them for the last year and have admired the great work they're doing," remarked Robertson. "We share a strong commitment to advancing the missions of home health and hospice providers nationwide. I look forward to supporting the company and collaborating with the other board members to drive innovation and growth."
Robertson will join a seasoned board of directors comprised of home health and hospice veterans. With more than 60 years of combined experience leading successful organizations, including Deyta and HEALTHCAREfirst, they deliver expertise in a wide range of areas including technology and service innovation, finance, operations, marketing, and more.
About HealthRev Partners
Delivering financial security and stability, HealthRev Partners inspires possibilities for home health and hospice agencies across the nation through high quality, personalized revenue cycle management services and consulting enabled by the latest technology. The company's innovative, scalable solutions accelerate cash flow, spark continuous growth and reinvestment, and provide peace of mind, allowing agencies to focus on advancing their mission to provide exceptional care and touch more lives. To learn more about HealthRev Partners' solutions, call 866.780.3554 or visit healthrevpartners.com.
About LifeCare Collective
LifeCare Collective empowers small to mid-size home health and hospice agencies to improve ROI and adapt more quickly to market changes by leveraging significant advantages gained from the synergy of a collective group. Benefits for agencies include better managed costs, optimized purchasing power, and streamlined operations. Stronger Together! To learn more about LifeCare Collective, call 314.375.4426 or visit LifeCareCollective.com.