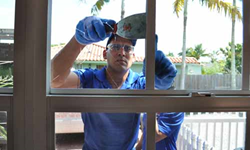 A simple glass repair on a front door in a Boca Raton neighborhood may encourage a warm welcome when that potential buyer crosses the threshold into your home
Boca Raton, FL (PRWEB) February 10, 2016
Express Glass & Board Up, one of Boca Raton's top-rated glass repair services, is proud to announce an innovative, new blog post on the topic of 'front door appeal.' The post brainstorms how to think about the importance of the 'first impression' one's home makes to potential buyers, and builds on the common concept of 'curb appeal.' Upgrading a glass front door (either via replacement or glass repair) is a simple solution to upgrade one's home value.
"Our recent blog post informs new Boca Raton homeowners that if they truly want to become part of the community, they should think about that vital first impression. A modern and clean glass front door tells the entire neighborhood you care about where you live, and it improves your home's value to buyers," explained Yani Santos, general manager of Express Glass. "A simple glass repair on a front door in a Boca Raton neighborhood may encourage a warm welcome when that potential buyer crosses the threshold into your home. "
To review the informative blog about Boca Raton glass repair please visit http://www.expressglassfl.com/blog/front-door-glass-repair/your-boca-raton-front-glass-door-it-says-a-lot/. Information about glass repair for doors and windows and the importance of curb appeal is available, and those living in Boca Raton are urged to also visit the company's Boca Raton-specific information page on glass repair services at http://www.expressglassfl.com/boca-raton-fl/.
The Glass Repair of a Front Door or Sliding Glass Door Can Improve the Appeal of a Boca Raton House for Sale
In Boca Raton, purchasing a new home can be exciting for buyers and include high expectations. New homeowners may expect to meet neighbors and enjoy block parties as soon as the move is complete. A great way to encourage a warm welcome from the neighborhood is to make a great first impression. If the home was considered run down by locals, raising the curb appeal may be the best place to start. If the front door to the home is outdated, or the glass is cracked, Boca Raton glass repair can be an easy way to freshen the home's image and reflect neighborhood pride.
Express Glass has issued a new informative blog post highlighting the importance of making a good first impression on a new neighborhood with Boca Raton glass repair. Touching base with the concerns of realtors in South Florida, the blog post explains that a modernized front entrance not only enhances the front of the home, it can create a positive impression on the community. Homes that have been left to decay with old broken glass doors may be a source of frustration to neighbors, and lower home values. In Boca Raton, as elsewhere throughout South Florida, quickly addressing front door glass repair can inform others the new homeowners plan to be great neighbors.
About Express Glass Repair and Board Up
Express Glass and Board Up Service Inc. is a family owned and operated glass repair business with more than 20 years of experience. Their professional technicians and the large variety of inventory make Express Glass the top glass repair service. If customers are looking for Boca glass repair or Miami glass repair as well as glass repair in Delray Beach or West Palm Beach glass repair, please reach out to the company for a free estimate. If customers need a 24/7 Sliding Glass Door repair service in Miami or Boca Raton or Miramar, technicians are standing by. The company specializes in sliding glass door repair and window glass repair; technicians will handle any glass replacement situation efficiently. Home or business glass repair is the company's main priority.
Express Glass Repair and Board up
http://www.expressglassfl.com/