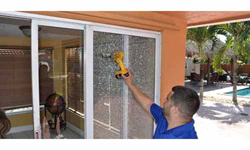 We get calls all the time from people who are dealing with a DIY sliding glass door repair project in Bocar Raton that has gone wrong, sometimes terribly wrong
Boca Raton, Florida (PRWEB) August 09, 2017
August 9, 2017 –Boca Raton, Florida
Express Glass & Board Up, a glass repair company serving South Florida including Boca Raton, is proud to announce the next post in its DIY summer series. Sliding glass door replacement in Boca Raton can create more damage than the original problem if managed alone. Self-made handymen or handywomen may have the confidence to fix a glass door, but not the specific skills. In the new post, Boca Raton residents are reminded sliding glass door replacement and repair managed right can require the skills of a professional.
"We get calls all the time from people who are dealing with a DIY sliding glass door repair project in Bocar Raton that has gone wrong, sometimes terribly wrong," commented Yani Santos, general manager of Express Glass. "Although I admire their self-sufficiency, by the time we are contacted, they've made a bad situation worse and possibly more expensive. Our new post gives the Boca Raton community a deeper look into sliding glass door replacement before tackling it alone."
To review the innovated new blog post about DIY hazards and sliding glass door replacement please go to http://www.expressglassfl.com/blog/sliding-glass-door-repair/diy-boca-raton-sliding-glass-door-repairs-choose-better-way/.
A glass window repair or patio door replacement can turn into more of a danger if a homeowner goes down the do-it-yourself path. A glass door or window requires the tools and know-how of a professional glass technician. To view information specific to Boca Raton glass repair, visit http://www.expressglassfl.com/boca-raton-fl/.
Experts can Save Boca Raton Sliding Glass Door Replacement from a DIY Hazard
Here is the background information to this post. Cities such as Boca Raton may have a community priding itself on self-sufficiency. Living a partially off-the-grid life can mean locals are used to using a do-it-yourself approach to home repair. In many instances, the DIY spirit can achieve successful results. Building a composting bin or installing kitchen cabinets could turn out perfectly. In other situations, managing a home repair alone can cause damaging results. If a new toilet needs to be installed, the project could take a bad turn if not properly sealed. At the first flush an entire bathroom could suffer major water damage. Similarly, if a sliding glass door needs replacement, popping out the slider without the proper tools and skill set could create a hazard in the home. Glass can break and shards can stick into a carpet or patio making a bad situation worse.
For these reasons, Express Glass, experts in sliding glass door replacement and repair in Bocar Raton and throughout South Florida, has released a new blog post. Certain DIY projects can create unintended hazards resulting in more time and money wasted. A new post addresses the hazards of handling certain home repair tasks alone. Boca Raton residents needing to fix a sliding glass door may consider calling a professional. Sliding glass door replacement can require specific tools and talents beyond the skills of a respectable do-it-yourself homeowner. A handyman could become quickly overwhelmed and the results can lead to a more expensive repair. A savvy DIY homeowner can quickly learn certain projects, such as Boca Raton sliding glass door replacement, require a paid professional.
About Express Glass - Boca Raton
Express Glass and Board Up Service Inc. is a family owned and operated glass repair business with more than 20 years of experience. Their professional technicians and the large variety of inventory make Express Glass the top sliding glass door repair service. If customers are looking for Boca Raton glass repair, please reach out to the company for a free estimate. If customers need a 24/7 sliding glass door repair service in Boca Raton, technicians are standing by. The company specializes in glass door repair and window glass repair; technicians will handle any glass replacement situation efficiently. Home or business glass repair is the company's main priority.
Express Glass & Board Up
http://www.expressglassfl.com/
Tel. 561-470-6002