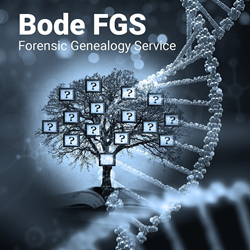 Bode has a long history of providing forensic support in New York and we are excited to be able to offer forensic genealogy to help solve cold cases throughout the state.
LORTON, Va. (PRWEB) May 12, 2021
Bode Technology (Bode), a leading provider of forensic DNA services, and Gene By Gene, a leader in genetic testing and owners of the FamilyTreeDNA database, announce approval of a combined solution to provide Forensic Genealogy Services (FGS) in New York. For the first time, these services are approved by the New York Department of Health and available to law enforcement, attorneys and innocence networks. The service offering creates a powerful investigative tool, joining Bode's forensic experience with Gene By Gene's advanced SNP testing and the FamilyTreeDNA database.
Forensic genetic genealogy originally gained publicity after the identification of the Golden State Killer. Since then, hundreds of cold case homicides and unidentified remains, previously thought to be unsolvable, have new investigative leads as a result of this technology. Bode and Gene By Gene have partnered on many of these cases including the arrest of an accused serial rapist (Durham, NC), serial rapists in CT, and the identification of a suspect in a decades-old cold case homicide (Portland, OR). Forensic genealogy has also provided new information in post-conviction cases.
"Bode has a long history of providing forensic support in New York and we are excited to be able to offer forensic genealogy to help solve cold cases throughout the state," said Mike Cariola, President and CEO of Bode Technology. "Most of our forensic genealogy cases include challenging evidence and require our advanced DNA sampling and extraction methods."
Bode has performed DNA testing on thousands of samples in New York, including more than 15,000 sexual assault kits and more than 20,000 unidentified remains from the World Trade Center attack. Through these efforts, Bode developed proprietary technologies to obtain DNA from challenging samples and degraded remains. Gene By Gene has been Bode's primary partner for the SNP testing required for forensic genealogy testing and a significant majority of the investigative leads developed to date have been generated from the FamilyTreeDNA database.
"We have seen first-hand the incredible positive impact the FamilyTreeDNA database has in improving public safety and the closure it has provided for victims of crime," said Connie Bormans, Laboratory Director of Gene By Gene. "The use of forensic genealogy has provided closure for families that have been seeking answers for decades. We encourage more citizens to join us as we continue to solve these cases."
Through the FamilyTreeDNA database, investigators can upload unknown profiles from violent crimes such as homicides, rapes, and unidentified remains. To date, hundreds of investigative leads have been provided to law enforcement in cases previously thought of as unsolvable.
Bode and Gene By Gene both offer high-quality and accredited services. The shared focus on quality and responsible implementation of this technology enabled the combined solution to be approved for use throughout the state of New York.
About Bode Technology
Bode operates one of the most internationally respected private forensic DNA laboratories and provides a comprehensive set of state-of-the-art forensic DNA collection products, DNA analysis services, and research services to law enforcement, the justice system and other government agencies around the world. Bode is accredited by ANSI National Accreditation Board (ANAB) to ISO/IEC 17025:2017 for Forensic Testing and Calibration Laboratories. Bode also maintains compliance with the FBI Quality Assurance Standards for Forensic DNA Testing Laboratories and DNA Databasing Laboratories. Bode also maintains AABB accreditation for relationship testing and holds a CLIA certification for diagnostic testing.
About FamilyTreeDNA and Gene By Gene
Founded in 2000, FamilyTreeDNA is the pioneer of the genetic genealogy and direct-to-consumer DNA testing industry, and the top choice for consumer privacy, according to U.S. News and World Report and Consumer Report. FTDNA is a privately held company located in Houston, Texas. http://www.familytreedna.com. Gene By Gene is a CAP and CLIA accredited laboratory located in Houston, Texas which processes genetic tests for commercial customers, along with consumer DNA tests for its FamilyTreeDNA division. http://www.genebygene.com.