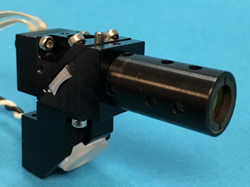 "We have invested in equipment & employees and are committed to meeting our customer's expectations for superior quality lenses with fast turnaround time at the most competitive pricing." Andrew Bodkin
NEWTON, Mass. (PRWEB) November 05, 2019
Bodkin Design & Engineering (BD&E), a premier supplier of infrared equipment to the U.S. Government, is now making their lens design services available to commercial customers. With the successful completion of over 20 years of DoD contracts for IR cameras, spectrometers and instrumentation, BD&E is now making their design and build capability available to commercial original equipment manufacturers (OEMs).
"We developed the first uncooled IR zoom lenses for the U.S. government. Now our ITAR-compliant facilities are available to commercial customers for all their imaging needs" Andrew Bodkin, founder & principal of Bodkin Design & Engineering, commented. "We have invested in equipment & employees and are committed to meeting our customer's expectations for superior quality lenses with fast turnaround time at the most competitive pricing."
Lenses fabricated at BD&E are used in defense, biomedical and industrial markets. Specialized applications include UAVs, zoom lenses, dual field-of-view cameras and dual-band visible/long-wave infrared imagers, microscopes and spectrometers. They span wavelengths from UV to LWIR.
From design to fabrication, BD&E's solid understanding of optical & mechanical design ensures that lenses produced in their facilities meet their customer's highest performance specifications for products of the right quality, the right price and at the right time.
About Bodkin Design & Engineering
"The Imaging System Experts"™
Bodkin Design and Engineering, LLC has been providing optical instrumentation as well as test and R&D services since 2003. Headquartered in Newton, Massachusetts, the company serves the international OEM, commercial, military, and research communities. Specializing in electro-optic and mechanical systems, BD&E is eager to work with partners to develop further uses for its technologies. For more information, please contact Bodkin Design & Engineering at info@bodkindesign.com.