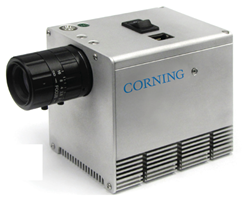 Bodkin Design is at the forefront of hyperspectral imaging technology and a recognized industry leader for spectral imaging needs.
NEWTON, Mass. (PRWEB) November 25, 2019
Bodkin Design & Engineering is proud to become a distributor of Corning hyperspectral imagers. The Corning microHSI™ 410 hyperspectral sensor offers the highest sensitivity of all HSIs in the industry. The patented mono-block design immerses the entire optical path in a high index material, allowing much greater through-put than free-space optical systems. The unparalleled sensitivity is a result of this immersed system, increasing sensitivity by the square of the index of refraction. And the solid block is immune to shock and vibration, making it ideal for airborne mapping and continuous web based process control.
Not only does the Corning microHSI™ 410 offer the highest performance, but costs considerably less than competitive devices.
The Corning microHSI™ 410 is available as a standalone sensor, with a scanning platen for laboratory use and as a turn-key package for airborne reconnaissance with software and built-in GPS/INS.
Snapshot HSI is ideal for capturing high speed events or producing video rate data-cubes; by contrast, Slit-Scan HSI produces high resolution maps through airborne platform motion or a scanning mirror or moving conveyer belt.
Visit Bodkin Design.com for more details on these exciting technologies or contact us for help in choosing the perfect sensor for your application.
About Hyperspectral imaging at Bodkin Design
"The Imaging System Experts"™
Bodkin Design and Engineering, LLC has been providing hyperspectral imaging equipment since introducing the patented HyperPixel™ Array imager in 2003. A recognized leader in spectral imaging technology, BD&E stands ready to help its customers solve their toughest sensing problems. Under exclusive agreement, BD&E is the US distributor for spectral imagers from Cubert GmbH, SILIOS Technologies and now Corning.
Headquartered in Newton, Massachusetts, the company serves the international OEM, industrial, military, and research communities with innovative, state-of-the-art sensor solutions.
From off-the-shelf sensors to custom solutions, BD&E is eager to work with customers to solve their most difficult sensing problems. For more information, please contact Bodkin Design & Engineering at info@bodkindesign.com.