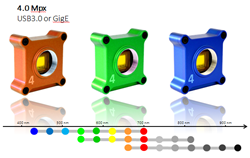 .......Bodkin Design is pleased to be selected as the US distributor for the SILIOS line of multispectral cameras which will expand our market offerings for precision agriculture, produce characterization, waste sorting, defense and security.
NEWTON, Mass. (PRWEB) December 05, 2018
Adding to their extensive line of snapshot, staring hyperspectral imagers, Bodkin Design & Engineering (BD&E) is very excited to announce the agreement with SILIOS to offer their line of CMS Multispectral Cameras.
SILIOS Technologies, headquartered in Peynier, France manufactures their off-the-shelf cameras using proprietary COLOR SHADES® multispectral technology. The cameras, capable of 95 data-cubes per second, are delivered in snapshot configuration. Available in 3 specific VIS/NIR wavelength ranges, they address a wide spectrum of applications from agriculture to cosmetics.
These lightweight (less than 60g) and very small footprint (52x52x22mm) cameras split the image into 8 spectral bands plus 1 B&W channel. Made by hybridization of a custom Bayer-like filter matrix on a commercial 4.2MPixel CMOS Sensor, they extract a spectrum on each point of an image. SILIOS offers three CMS cameras: CMS-C (430-700nm), CMS-V (550-830nm) and CMS-S (650-930nm).
The CMS-C camera (430-700nm) is COLOR-dedicated: optimized for color measurements, color process control, waste sorting and characterization of produce. The CMS-V camera (550-830nm) is VEGETATION-dedicated for environmental and agriculture monitoring, fertilization & irrigation optimization and vegetation index measurements. The CMS-S camera (650-930nm) is DEFENSE-dedicated for intrusion detection, forensics, rescue & other defense applications.
The SILIOS multispectral cameras augment BD&E's full line of high resolution, video-rate, snapshot hyperspectral imagers. BD&E's patented HyperPixel Array™ technology allows the instantaneous capture of data-cubes, enabling the collection of high-fidelity spectral data and eliminating the motion artifacts plaguing conventional scanned hyperspectral imagers. It finds application in the areas of machine vision, medicine, research, precision farming, defense and security.
To learn more visit us at http://www.bodkindesign.com, or see us at the American Geophysical Union Fall Meeting, Washington DC, December 10-14, 2018 at Booth 763.
About Bodkin Design & Engineering
"The Imaging System Experts"™
BD&E is a leader in technical imaging systems. Developing, manufacturing and marketing specialized equipment such as hyperspectral cameras, infrared cameras, polarimetric cameras, Schlieren imagers and gas imagers. In addition, BD&E develops state-of-the-art sensors for their client companies; providing concept development, design/build, and OEM supply to the biological, industrial, military, and research communities. To learn more, visit the website at http://www.bodkindesign.com.
About SILIOS Technology
SILIOS Technologies SA designs, manufactures, and supplies micro-optics, filters for spectrometry and multispectral imaging, multispectral cameras, instruments, laser beam shaping products, and astronomy products. Its products are used in industrial equipment, laser, and astronomy applications. The company was founded in 2001 and is based in Peynier, France.