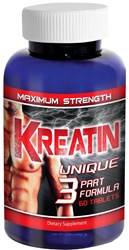 Adel, IA (PRWEB) July 24, 2013
Fitness-focused men and women who want to maximize their muscle growth, or who need a fast and effective workout recovery, can now get exactly what they're looking for with new Kreatin™ creatine supplement packs from M&M Beauty and Wellness.
Unlike conventional body and muscle building supplement products, each easy-to-swallow Kreatin™ 5000 mg tablet contains not one -- but three -- creatine compounds:

Monohydrate (4800 mg), which rapidly produces energy to support both cellular function and rapid post-workout recovery.
Phosphate (190 mg), which supports and enhances the energy replenishment process.
Pyruvate (10 mg), which promotes increased body mass and muscle development.
Combined, these three creatine compounds have been shown to produce superior results in athletic, body building and muscle-building workouts. They also pack a "workout wallop" that empowers men and women to keep their muscles going when they get tired -- which means they'll push harder, get bigger, and gain mass faster than ever before. They'll also experience improved recovery, which not only makes workouts more effective, but helps prevent injuries and other adverse health issues.
"Creatine and creatine-based compounds have been around for some time," commented Gregg Lambi, the head of Product Development at M&M Beauty and Wellness, which manufactures all of its products in FDA-certified and inspected manufacturing facilities. "It's well established as a safe and effective muscle building supplement or body building supplement. And now with Kreatin™, we've taken the best of all three worlds and combined them in an easy-to-swallow tablet – which is important to highlight, given the notoriously short shelf life of creatine in other forms."
Added Mr. Lambi: "We named our new rock star product Kreatin™, so that people wouldn't confuse us with the other cheap imitations on the market. Kreatin™ isn't illegal -- but given how much of an advantage it gives those who take it, maybe it should be!"
Kreatin™ is available on Amazon.com at http://www.amazon.com/Creatine-Muscle-Gain-Get-big-Guaranteed/dp/B0072XLJHG. For a limited time, each 60-tablet bottle sells for $10.49, which is 79% off the regular list price of 49.99. Plus, customers can take advantage of Amazon.com's "Super Saver" option and pay no shipping fees.
In addition, customers are invited to try Kreatin™ for 30 days. If it doesn't give them the ripped body that they want -- and empower them to be the alpha that they know they are -- they can simply contact M&M Beauty and Wellness for a full refund.
About M&M Beauty and Wellness
M&M Beauty and Wellness, LLC is committed to delivering quality products that support health and well-being naturally. All of the company's products are made in the USA, and in FDA-certified and Inspected manufacturing facilities. Learn more at http://www.mandmbeautyandwellness.com.
Standard Disclaimer: The statements made in this press release have not been evaluated by the FDA (U.S. Food & Drug Administration). Kreatin™ is not intended to diagnose, treat, cure or prevent any disease.