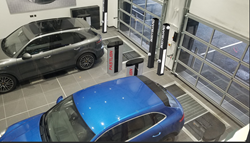 TORONTO (PRWEB) February 24, 2021
BanaLogic, automotive inspection specialists, has released a new vehicle intake and damage detection system called BODYGUARD. Specifically designed for dealerships, repair centers, car rental locations, and parking garages, it captures hundreds of images including license plate data in mere seconds as a vehicle enters and/or exits the designated lane.
Our customers were asking for a solution to document and augment their vehicle intake and return process that did more than just capture images. After much research, we discovered that systems were either lacking in capability or so cost prohibitive that it would be less expensive to simply absorb and write off any claims. For BODYGUARD, we leveraged technology used in our FASTLIGN laser alignment drive through lanes to capture license plate data and trigger bright LED illumination, combined with high resolution cameras strategically placed on towers, to capture hundreds of images at various angles on a 3-5 second drive through. The system is easy to install and uses a small internet appliance to push content securely into the cloud. There are no servers or software to locally maintain and back up and our customers can store, search and review up to a year's worth of vehicle traffic and images in the cloud for little more than $2 a day.
"One damage claim can more than pay for BODYGUARD," says Keith Lee, Chief Technology Officer, BanaLogic Corporation.
The company has recently launched two packages - BODYGUARD BASE & BODYGUARD BRITE. Both packages come with automatic license plate recognition (ALPR) with the BRITE package adding automatic high intensity LED lighting to increase image clarity. Each lane for the BASE package is $3,995 and the BRITE package price is $5,995.
The BODYGUARD system is designed to be: easy to implement; adaptable to a wide variety of applications and lane configurations; convenient to use, and is field upgradable. Our engineering team is already working on the next BODYGUARD package which will include the use of artificial intelligence (AI) to automatically identify pre-existing damage - all in the same footprint. BODYGUARD systems are designed to be modular and easily field upgradable to enhance and protect investment in the technology.
To learn more, visit: http://www.bodyguardcam.com or call (866) 853-6320.
About BanaLogic
Founded in 2004, BanaLogic is a product design and engineering company, specializing in automotive inspection solutions. We have developed a number of innovative products including safety and emissions analyzers (PENN!E, OSKAR, and NC!E), onboard diagnostic devices, artificial intelligence computing systems, and the industry's first drive-thru alignment check system - FASTLIGN.
​We never stop innovating and pride ourselves on providing superior leading-edge technologies and outstanding customer service. We have supplied products to the automotive industry, government agencies and as OEM's to Fortune 500 companies for over two decades.