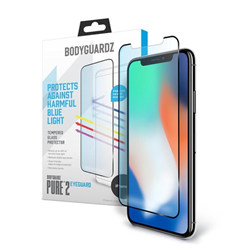 LEHI, Utah (PRWEB) September 25, 2018
BodyGuardz ®, a leader in mobile device protection, today announced the launch of Pure 2 EyeGuard, the company's newest, blue light-filtering screen protector for the iPhone X, Xs, and Xs Max, now available in AT&T stores and online and on Bodyguardz.com.
"BodyGuardz is excited to offer a new, premium glass product that will not only protect our customers phones, but their eyes as well," said Kirk Feller, CEO of BodyGuardz. "Knowing how harmful the effects of blue light can be, we designed the Pure 2 EyeGuard to offer yet another layer of security to protect the busy and active lifestyles of our customers."
Studies show that high-energy, artificial blue light emitted by mobile devices can cause headaches, sleep disruption, and Digital Eye Strain, and can speed up macular degeneration. The Pure 2 EyeGuard's edge-to-edge tempered glass design was developed to reduce those side effects by absorbing up to 43 percent of the most harmful blue light wavelengths while maintaining bright, vibrant colors. It retails online and in AT&T stores nationwide for $45 for the iPhone X, and Xs and $50 for the Xs Max.
All BodyGuardz screen protectors and full-body skins are backed by the company's Advantage Program, which provides free screen protector replacements during the life of the device for only the cost of shipping and handling.
To learn more about BodyGuardz's product offerings for the newest iPhones, visit http://www.bodyguardz.com.
About BodyGuardz
Founded in 2002, BodyGuardz began as a small line of screen protectors for a limited number of devices and grew into a solid organization that provides millions of products to mobile device users throughout the world. The company prides itself in providing products, service and delivery that customers notice as a step above the rest. BodyGuardz designs reliable mobile device accessories that keep up with today's active lifestyles. For more information please visit: http://www.bodyguardz.com
About Parent Company
BGZ brands was placed on the Inc. 500 list as one of the fastest-growing companies in 2015. Its' mission is to enhance our customers' lifestyles through branded products and services of elevated value and quality. Formerly known as BodyGuardz, BGZ brands has become the powerhouse parent company of three distinct consumer electronic accessory brands—BodyGuardz®, a leading device protection company; Lander®, Gear Made Modern™; and Moxyo, modern accessories for you™. For more information, visit http://www.bgzbrands.com.