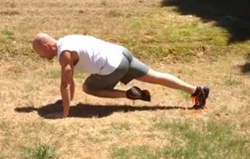 Atlanta, GA (PRWEB) May 07, 2014
BodyweightTorch.com, a website that offers a free 4-week bodyweight exercise program, revealed a new video showing a 10-minute home workout routine that people can do from the comfort of their own home.
Mike Whitfield, the creator of Bodyweight Torch, has lost 115 pounds and propelled his passion into helping people all over the world get in shape by using short, bodyweight home workout routines using no equipment.
Whitfield said, "This 10-Minute Bodyweight Home Workout Routine can be done even if someone is on a busy schedule. The workout uses a unique 20 seconds on and 10 seconds off approach and hits a lot of muscle groups at one time. It's a full body workout using just bodyweight and it's a great challenge. I wanted to share with my subscribers that there really isn't an excuse to not work out. This 10-minute workout I show in the video uses a variety of bodyweight training and bodyweight conditioning. The Bodyweight Conditioning circuit will get anyone's heart up very quickly and will improve anyone's fitness level. I was very excited to film this for our loyal subscribers at BodyweightTorch.com."
The video, just released by Mike Whitfield on their new and growing YouTube channel https://www.youtube.com/user/bodyweightden, shows the entire circuit and how anyone can use this bodyweight conditioning circuit at home using no equipment.
"This 10-minute bodyweight conditioning circuit is a great way to get in shape at home but is also a great workout traveling because it can be done at any time and anywhere. I enjoyed sharing this bodyweight solution with our readers who are traveling," said Whitfield.
You can get the free 4-week bodyweight training program that uses a variety of conditioning and bodyweight training designed by Mike Whitfield at http://www.bodyweighttorch.com.