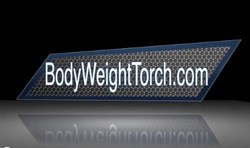 Between both videos, we plan on showing 105 bodyweight exercises.
(PRWEB) December 06, 2013
Mike Whitfield, a trainer in Georgia who has lost 105 pounds and has kept it off, released a new video of the best bodyweight exercises. Inside Part One of the two videos, Whitfield demonstrates dozens of bodyweight exercises using zero equipment.
"I'm so excited about launching this video to celebrate losing 105 pounds. This is part one of two videos that we plan to release to the public. These bodyweight exercises will hopefully inspire people to stay more active and discover that a lack of equipment shouldn't hold anyone back from starting an exercise routine.
Many of the bodyweight exercises are inside the Bodyweight Torch workout system that has a variety of bodyweight circuits and fun bodyweight training workouts. I wanted to offer a resource for those that are looking for fun ways to work out at home and need structured bodyweight workouts.
Bodyweight exercises are a great way to stay in shape on a tight schedule or when anyone is traveling. Between both videos, we plan on showing 105 bodyweight exercises. We just completed part one and we plan on releasing part two in the near future. We are so excited about it. It will inspire future bodyweight conditioning
programs. We actually filmed all 105 bodyweight exercises in one session, but the hard work will be worth it as people discover new ways to work out using their own bodyweight. Bodyweight workouts are a great way to stay in shape at any age. This will be a great resource for fitness enthusiasts and even trainers", said Whitfield.
For a limited time, you can download Mike Whitfield's "Bodyweight Torch" 4-week bodyweight workout program including a variety of bodyweight training circuits and bodyweight interval training for free at http://www.bodyweighttorch.com.