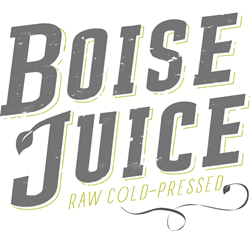 Dedicated to providing juice with the highest density of nutrients and live enzymes.
Boise, ID (PRWEB) August 16, 2016
Boise Juice Company announced, today, the opening of their new store and Boise's first cold-pressed juice bar to be located at 5628 W State Street. The announcement comes after Boise Juice acquired Bowl of Heaven-Boise with plans to incorporate the two menus.
Boise Juice Co. will move into the current Bowl of Heaven-Boise storefront and open its doors to the public on September 1. The Company will continue to offer its complete line of raw, cold-pressed juice along with the acai bowls and smoothies that have become a staple for Bowl of Heaven-Boise patrons. In addition to healthy grab-and-go food and beverage items, the new location will also offer Boise Juice's signature cleanses and wellness packs.
"The availability of same-day cleanses is a step forward for Boise Juice, as customers previously had to order juice 48 hours in advance," said Jessica Walton, owner of Boise Juice Company. "This new convenience will provide more opportunity and availability for people looking to do a one to six-day juice cleanse."
Boise Juice Co. is dedicated to providing juice with the highest density of nutrients and live enzymes. By using the cold-press method, enzymes and cellular structures remain intact to ensure a nutrient-rich juice for customers.
"Our juice is made fresh just hours before it's sold," said Walton. "This sets us apart from juice you find on store shelves at Whole Foods and the Co-op, which have been processed using High Pressure Pasteurization (HPP) and sit on the shelves an average of 25 days."
The made-fresh daily fare is primarily raw, vegan and gluten free consisting of local, non-GMO vegetables, fruits and herbs. Menu items with names like City of Greens, Turmeric Tonic and CoCo Beach offer an exciting flavor profile while providing you with more than your daily dose of fruits and vegetables.
The new store will be open seven days a week Monday-Friday from 9:00 AM to 7:00 PM; Saturday from 9:00 AM to 5:00 PM; and Sunday 11:00 AM to 4:00 PM.
Follow Boise Juice Company on Facebook /boisejuice and Instagram @BoiseJuice. For more information on Boise Juice Co. or to place an order, visit the website at boisejuice.com or call (208) 996-0707 or email info(at)boisejuice(dot)com.
###
About Boise Juice Co.
Boise Juice specializes in crafting raw, cold-pressed juice enriched with the highest density of nutrients & flavor. We believe in supporting local and regional farms in Idaho, Oregon and Washington that grow non-GMO produce. All of our juices are extracted using a hydraulic cold-press juicer, which maintains the temperature of the produce and limits oxidation by exerting more than eight thousand pounds of pressure. Many juice bars use centrifugal and masticating juicers that grind fruits and vegetables to a pulp at high speeds, aerating and heating the juice. Those processes destroy the precious nutrients and living enzymes found within each fruit and vegetable. The cold-press method maintains the integrity of the plants' cellular structure and extracts the purest form of juice with the greatest density of nutrients and flavor.
About Bowl of Heaven - Boise
Bowl of Heaven-Boise serves healthy açaí bowls and superfood smoothies. No Ice. No Dairy. No processed sugars. Just nature's best fruit topped with granola, fresh fruit, and honey. The açaí berry (pronounced ah-sigh-ee) is grown in the Amazon rainforest in Brazil. This antioxidant-rich super-fruit is the base for all of our Bowls. We mix in fresh, frozen and exotic super-fruits and after a quick turn of the blender – BAM! – you have heaven in a bowl. Every spoonful of this smooth, thick, raw fruit concoction sends your taste buds to paradise.